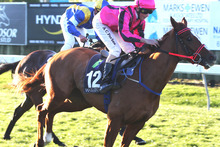 On one level, Matamata trainer John Sargent had a perfect day's racing on Saturday.
On another, he experienced only frustration.
Sargent had been keen for under-rated mare Fromelles to finally get her turn at good luck and it came with a clearcut victory in the $70,000 Campbell Infrastructure Rotorua Cup.
Problem was, he didn't get to see the race.
Sargent was at Doomben races and spent a frustrating hour searching for a television set on the Brisbane racecourse that would show him the action
"There were like 800 new flat-screen sets on Doomben and not one of them was showing New Zealand racing.
"In Australia, Sky2 was showing Rotorua and all the sets were tuned on Sky1." A desperate Sargent fiddled with one set, but with no success. He managed to fluke a radio commentary of Fromelles and Lisa Allpress running away to win the Rotorua Cup from Sum Up.
Sargent was at Doomben to assess the performance of his group one-winning juvenile Choice Bro, who ran in the Oaks Hotels & Resorts Hampden Stakes and he was well pleased.
Choice Bro trailed the leaders and wilted slightly to finish a reasonable margin from the winner, but that was what Sargent expected.
"He's a heavy, gross colt and he wasn't ready for that run. He probably won't be ready for his next race either over 1350m because his grand final - the metric mile - is a month away.
"He takes a lot of getting fit and he'll improve a lot from yesterday's run and will improve again after the next one."
Sargent is putting the final touches to his plans to operate a satellite stable from New South Wales, but has not finalised on the base being at Warwick Farm or at Hawkesbury.
He was sick of losing his best staying-type horses to Australian trainers. "I thought, bugger it, I might as well open up over there and train them myself. I was losing too many."
Fromelles might well be one he switches to Australia. The owners of Fromelles, who live in Brisbane, also race promising types Bragging Rights and Casting Stones from the Matamata base.
"They have to be pretty good to send to Australia," says Sargent. "You are probably wasting your time sending just average horses over there."
One bright point around the Rotorua Cup victory is the owners of Fromelles watched the New Zealand race from their home, scooped up Sargent from Doomben and shouted him a first-class night out.
Fromelles was unlucky two starts back when close up behind the placegetters in a fillies' and mares' weight-for-age race at Awapuni last month then finished a luckless fourth in the Hawkes Bay Cup, getting home strongly after covering extra ground.
"As a previous winner at Rotorua, I thought she'd run well."
After being held up near the 500m, Sum Up charged to share the lead soon after rounding the home bend, but the winner was too strong.
Cambridge trainer Murray Baker knew Oak Park was making a big step up in class taking on Saturday's $50,000 Windsor Park Rotorua Stakes, but he was not fazed.
He had for a while suspected that the little mare was capable of something pretty good.
This was a big ask though, stepping up from mid-range grades to taking on the likes of Fleur De Lune at essentially level weights.
The fact Oak Park had drawn an inside barrier on a day when it was pretty important to sweep out wide made it look much tougher. None of that mattered. Oak Park and Lisa Cropp stayed close to the inside and just outlasted Zennista with the hot favourite, Fleur De Lune, game as ever a short head back third.
Oak Park got in off the ballot to destroy the last hope of Pick6 punters and a local runner Fastnfree missed by one making the field, but started in an earlier race to win at long odds in the first of the jackpot races to put most in the $400,000 Pick6 on a slippery slope.
If there had been just one ticket on Smartly in the last race, the holder of it would have had little stress through the running. But there wasn't - all hopes were extinguished by Oak Park in the previous race.
Smartly won like you dream about seeing your final Pick6 leg perform - going straight to the front and always having the opposition covered.
Apprentice Alex Forbes did not have to do a lot to keep Smartly clear of the others in the closing stages.
The Pick6 has jackpotted to $500,000 for Saturday's jumps' day at Te Rapa.
In Brisbane, Cambridge filly Saturn Rock looked good powering home into third in the A$100,000 juvenile event, after being last in the first 100m.
Poste Restante looked a real prospect for the Queensland Oaks when she was beaten half a head and a short head in the A$125,000 Rough Habit Plate and Nashville and Urunga were unplaced in the same race. Six O'Clock News, after leading, dropped out to finish last in the Chairman's Handicap.
SARGENT'S DAY
* The leading trainer, visiting Doomben, had hoped to see Fromelles running in the Rotorua Cup.
* But he could not find a television on the Queensland track that showed the race.
* Fromelles and Lisa Allpress bolted home.
By Mike Dillon

Email

Mike