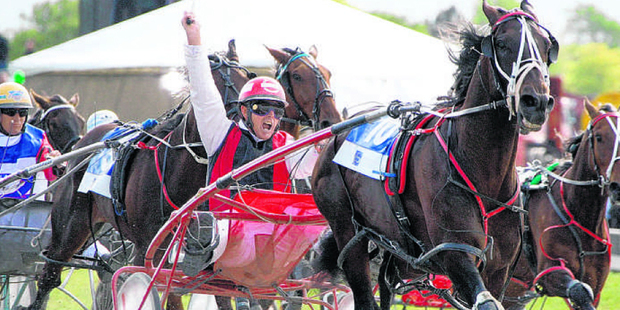 From a good draw, Terror To Love should dominate his rivals in the Messenger Stakes tonight.
And both roles would suggest punters can expect to see the same feature-race winners tonight as they did last Friday, possibly even the same quinella in one case.
Butt partners Terror To Love in the $100,000 Messenger and Dr Hook in the $150,000 Rowe Cup. He expects to win one but is realistic about the other.
"As good as Dr Hook went last week you have to be realistic about beating I Can Doosit," says Butt.
"He is just in the zone at the moment and has a lot of strings to his bow.
"I know what that is like because I have been there before with both Lyell Creek and Take A Moment. So unless he has some bad luck I might be running for second in the Cup."
That is where Dr Hook found himself in last Friday's Anzac Cup after staging a great recovery following an early gallop.
"I was really impressed by what he did last Friday and he handled the track a lot better.
"So we are right among the chances behind I Can Doosit."
Those chances include Raydon and Sno's Big Boy, but punters won't be queuing up to back any of them against the champ.
While Butt realises he may be on the end of a hiding in the Rowe, he wants to hand one out in the Messenger. Terror To Love has barrier two in our greatest 4-year-old pace and that advantage is heightened by arch-rivals Hands Christian (seven) and Gold Ace (nine) drawing badly.
So Terror To Love is certain to lead early and Butt is in no mood for challengers.
"The way I look at it, if we lead and something beats us then we weren't good enough," he said.
"But I'd rather be in charge of our own destiny so I will be staying there."
That is how Terror To Love won last Friday's Taylor Mile and Butt says the NZ Cup hero did so easily.
"He felt like he could have gone another lap," he said, which is handy, because that is exactly what he will have to do tonight.
Terror To Love's early autumn form was not befitting of a New Zealand Cup winner but he might have been flattened by his Miracle Mile campaign, on which he became sick.
With an easy lead looking likely tonight it is hard to go past him as he could turn the race into little more than a jog around followed by an 800m sprint, which would be a nightmare for punters on Hands Christian and Gold Ace.
Hands Christian may be as good as the other pair these days but in a small field there may be little pressure to soften the leader up so punters should be wary about taking short odds about the dangers.
In fact, it will surprise if Terror To Love's $1.90 opening quote holds up.
PREMIER PICKS FOR ALEXANDRA PARK
Best bet: Terror To Love (R10, No.2): The Messenger is his to lose after drawing two.
Best each-way: Let's Elope (R12, No.6): No luck last week but this field suits.
Forgive: Escapee (R9, No.12): Unruly will help her settle early and should still win Derby.
Bolter, part two: Brookside Filly (R6, No.8): Paid $57 winning last Friday but has improved further.Anthony Butt is set to play both the bully and the bullied in the group ones at Alexandra Park tonight.