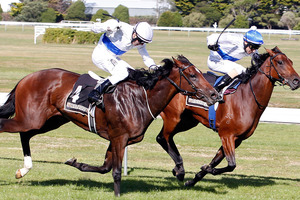 Trainer Shaune Ritchie is warning punters to be careful with New Zealand Oaks winner Artistic when she makes her Australian debut on Saturday.
The Cambridge filly starts in the A$125,000 Gold Coast Bracelet over 1800m as she counts down to the Queensland Oaks on June 2.
And Ritchie says the enormity of peaking a filly for two Oaks in one season means Saturday's race becomes extremely tricky.
"She is well in herself but she won't be screwed down for Saturday," said Ritchie. "She hasn't raced since the Oaks and she is going to take a lot of improvement from this.
"But it is hard to peak them twice for races as hard as an Oaks so I have been deliberately easy on her since her Oaks win.
"She has had two clean weeks off and while she galloped between races at Matamata last Friday she hasn't been to the trials."
And they aren't Ritchie's only concerns heading into Saturday.
A wet Queensland autumn has seen the Gold Coast track rated slow, a slight upgrade from the heavy Ritchie was expecting.
"Slow will be all right for her but if it gets heavy I'd start to worry.
"She doesn't really handle heavy even though she ran fourth in the Guineas on it, whereas she won the Bonecrusher at Ellerslie on a slow track."
Artistic has had $20,000 contributed to her Australian campaign by Queensland racing officials as part of their initiative to make the Queensland Oaks the Australasian championship for Oaks winners.
"But that is not why we are here. After all, her owner [Dick Karreman] isn't exactly short of a quid.
"We are here because we think she can win the Oaks."
Artistic will head to the Doomben Roses in a fortnight before the Oaks.
Fellow Kiwi filly Quintessential was a solid fourth at Eagle Farm yesterday after getting a long way out of her ground in the Gunsynd Classic.
Chris Munce, who rode Quintessential, has been booked for Artistic for all three of her Queensland races.
Kiwi wonder jockey James McDonald will partner defending champion Xtension in the Champions Mile in Hong Kong on Sunday.
The pair take on, among others, former New Zealand mare King's Rose.
Of more immediate concern, Kiwi trainer John Wheeler will shoot for his fifth victory in the Grand Annual Steeplechase at Warrnambool today, with Tobouggie Nights and he believes the gelding has the right credentials to deliver it.
The 6-year-old has won five of his 12 jumps starts and three out of five over country, including the Von Doussa (3250m) Great Eastern Steeple (4950m) double at Oakbank over Easter.
"He's fit and he's well, but this is a race you need luck in," Wheeler said yesterday.
"I had the first and second favourite [Petushki and Banner Strand] in it last year and by the time they jumped seven fences they had no riders left on them and neither of them had fallen.
"Luck plays a big part in the race.
"But given even luck I think he'll be too good for them."
Wheeler has won a record nine Great Easterns and today will chase his fifth Grand Annual having won with Foxboy (1997), The Sundance Kid (1989), Frankoo Verymuch (2005) and Real Tonic (2006).
He was a part-owner of the 1993 winner Straight And True, who was trained by John Glatz.
Foxboy made a clean sweep of the Von Doussa, Great Eastern, Brierly and Grand Annual in 1997.
"He [Tobouggie Nights] is a pretty good horse. He's right up with the better ones I've had but he's still a work in progress," Wheeler said.
"He won't be at his best until late this season or next season.
"He's got a good attitude and he's a good, tough horse and he's only 6."
Wheeler combined with the now-retired jumps jockey Brett Scott for all four of his Grand Annual victories.
Tobouggie Nights had his first look at the Warrnambool course on Sunday and twice schooled well over the tricky Tozer Rd double.
Kiwi jumps jockey Richard Eynon, the regular rider of Tobouggie Nights, is after his first Grand Annual success.
Tobouggie Nights was the $3.20 favourite with TAB Sportsbet yesterday ahead of Awakening Dream at $5.50, Vindicating at $7 and Cats Fun at $7.50. Veteran Al Garhood, chasing a hat-trick in the race, is at $31.additional reporting, AAP