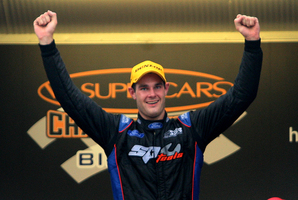 I am used to speeding against the clock but never thought I would be racing against time just to make it to the start line in Hamilton.
But due to a mini passport crisis, for a while it was looking a little touch and go whether I would make it to the event later this month, which of course is one of my favourite weekends of the season.
Last week I lost my passport, and despite turning my house upside down since I have been unable to find it. I was told that a new one could take up to 10 working days, which would have made me a marginal bet for Hamilton but I have paid the extra fee (total $350) for urgent processing and everything should be under control now. I can't wait to get back to Hamilton, especially with the memories of my win there on the Sunday last year, when I started from fourth on the grid, led for 26 of the 59 laps and came home under the chequered flag.
Tasmania is always a thoroughly enjoyable weekend, though the circuit is incredibly testing. It is a good little track but sometimes it feels like NASCAR - I remember last year there was only five tenths of a second between first place and the 24th car.
Qualifying can be a real buzz; sometimes you come in and are a bit down because you may have only improved your time by a fraction of a second, before your pit crew inform you that it was enough to have advanced 10 places.
The fans are passionate but also quite neutral; at most other venues you can definitely sense a bias towards Ford or Holden but here it seems like a 50-50 split.
Talking of bias, I've been impressed with the other Kiwis in the field so far this year. I think Greg Murphy has showed some good potential and pace thus far and I know everyone at Kelly Racing is working really hard to get the most out of the car. It is bad luck for Greg that injury has ruled him out this weekend, as he has always done well at Symmons Plains Raceway and has three previous victories here.
I had a good battle with Fabian Coulthard at Albert Park and he is driving with real confidence. I like to joke with him that he always should have stuck with Ford - he had a couple of tough years at Holden - but I think he has got his mojo back and is in a better place now.
It seems like defending champion Jamie Whincup will again be one to beat this year. Will Davison drove brilliantly yesterday and is in red hot form at the moment. Fourth place was a solid result for me but hopefully I can get on the podium today.