Herald sports writer Daniel Richardson is philosophical about some impressive art exhibitions in Brisbane.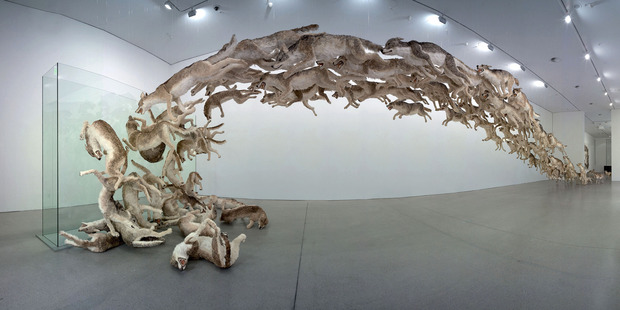 With little exaggeration, here's - give or take - all I know about art: as a child, only sometimes was I able to colour inside the lines; Whistler's Mother is a painting featured heavily in the Bean movie starring Rowan Atkinson; art can imitate life and vice versa.
When I was in Brisbane late last year, I had the opportunity to visit two art exhibitions, and when a young man has Queensland's capital city at his mercy what better way to spend it than taking in some well overdue culture?
First came California Design, 1930-1965: Living in a Modern Way at the Queensland Art Gallery.
Now, this was my kind of exhibition.
With user-friendly pieces to read about each item, the extensive exhibition, organised by the Los Angeles County Museum of Art, chronicled the rise of California from being something of a two-horse state to a thriving place for industry.
California was to set the tone in business expansion, architecture, design and fashion.
The exhibition had more than 250 items, from kitchen appliances to furniture, even women's bathing suits, which took on a notable change during the 20th century.
It was easy to make my way through the years, taking in the words and examining the artefacts.
There were also short video clips.
It was a nice way to learn a little about art.
Across the way at the Gallery of Modern Art, something different was in store.
Chinese contemporary artist Cai Guo-Qiang had taken over the building with a three-pronged exhibition. Cai Guo-Qiang: Falling Back to Earth was on display in Australia for the first time.
Walking into a huge room I was confronted with lifesize models of wild animals drinking from the same pond.
There were 99 animals - an important number in Chinese culture - on display in the piece, which to me signified that everyone had one basic need and, regardless of your background, you should share resources.
And, yep, that's probably about the extent of my insightful thinking.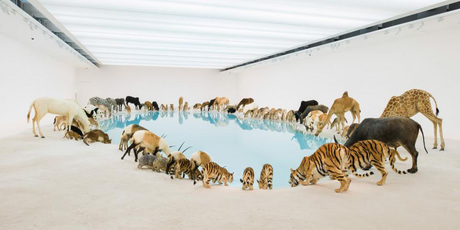 After seeing the animals sharing a drink, my gaze was taken by a giant eucalyptus tree, suspended on its side.
It was the kind of exhibition which required people to think and probably take some time to reflect on themselves while looking at this gigantic tree.
Such an activity was appealing to me for a few minutes before I needed to see something else.
I finished by making my way through to another huge room where 99 wolves were leaping through the air - but some had hit a glass wall and had fallen to the floor.
They were all lined up as part of the immaculately constructed exhibit but as for the meaning behind it, who knows?
By that point I'd reached the overload stage and all I can recommend is taking a look for yourself so you can make up your own mind.
CHECKLIST
Getting there: Qantas, Air New Zealand and Jetstar fly daily to Brisbane from Auckland.
Accommodation: Try Limes Hotel at 142 Constance St, Fortitude Valley or Punthill Apartment Hotel at 40 Astor Tce, Spring Hill.
Further information: See tq.com.au.
Daniel Richardson travelled as a guest of Brisbane Marketing and Tourism and Events Queensland.