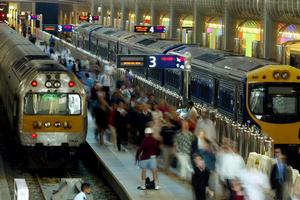 Auckland Transport will commandeer about $630 million from Auckland ratepayers to spend on everything from new roads to broken footpaths and potholes. Photo / Derek Flynn
Transport is the number one issue facing the Super City - but the Government wants to prohibit elected representatives from tackling congestion, improving public transport and fixing footpaths.
Acting against the advice of the Treasury and other government departments, the Cabinet has decided to place transport in the hands of a largely unelected board of business people far removed from the accountability and transparency norms of local government.
Demolition of the popular Kingdon St railway station in Newmarket over the Christmas holidays was a foretaste of what Aucklanders can expect under the Super City, says one of Auckland's most experienced politicians.
Mike Lee, who theoretically is in charge of public transport services as chairman of the Auckland Regional Council, found himself powerless to intervene and prevent demolition of the station.
The ARC's "council-controlled organisation" - the Auckland Regional Transport Authority - and Kiwi Rail decided to demolish the temporary railway station before the opening of Newmarket's grand new $35 million station without political input.
The real concern for Mr Lee is that Arta, which receives about $190 million a year from the ARC, is a baby compared to the much larger and stronger CCO planned by the National-led Government for the Super City.
Auckland Transport will commandeer about $630 million from Auckland ratepayers to spend on everything from new roads to broken footpaths and potholes.
It will be run by between six and eight directors, two of whom can be members of the Auckland Council. The New Zealand Transport Agency can also appoint one non-voting director.
Under a proposed Government bill, Auckland Transport is not obliged to delegate any transport function to the Auckland Council or local boards, listen to communities, hold public meetings or front up to dispute resolution when things go wrong.
Mr Lee says this is just the tip of the iceberg. The bill also means Auckland Transport does not have to act in accordance with the requirements of the Auckland Council or follow the council's transport and planning policies and can sell assets and enter into major financial commitments without council approval.
Scores of submitters to the Government's third and final Super City bill are horrified at the prospect of unelected directors running transport and six other CCOs. All up, the seven CCOs will control at least 75 per cent of council business.
Even right-wing politicians, such as Auckland City mayor John Banks, want the brakes to go on Auckland Transport. Auckland Chamber of Commerce chief executive Michael Barnett says it is unacceptable to have an "unaccountable arm's length CCO for transport".
Waitakere deputy mayor Penny Hulse says that when she is contacted about an issue, more often than not it is about roads, public transport, speed limits and other transport matters.
This is where the rubber will hit the road. Politicians, such as Penny Hulse, not the Auckland Transport chairman tucked up in a Remuera mansion, will cop the flak when the transport system fails.
Research by Local Government New Zealand shows 80 per cent of the work of community boards in Christchurch is street-related - footpaths, carparking, slow roads, bus shelters, traffic conflicts etc.
It is a puzzle how Auckland Transport will manage these issues to meet community demands, it says.
The agency designing the Super City says CCOs, such as Auckland Transport, will need to recognise the Auckland Council and local boards - but this contradicts the CCO model.
By their nature, CCOs are designed to take control away from meddling politicians and the prying public to get things done. This works well in some areas of council life but as many submitters to the bill pointed out, transport is the number one issue facing Auckland and the nuts and bolts should be left to the new mayor and Auckland Council.
Manukau mayor Len Brown said that if he became the first mayor of the Super City, his number one priority would be transport.
"How can I do that if transport is sitting in someone else's hands, not directly accountable?"
DEPARTMENTS AGAINST CCO
Four Government departments advised the Cabinet against a CCO for transport. Internal Affairs, overseeing the Super City reforms, believed elected members "who are solely responsible for rating levels, need to be clearly accountable for transport funding decisions". The Treasury believed there was "no clear or strong rationale for central Government mandating a unique approach to transport decision-making in Auckland".
Despite the official misgivings, Transport Minister Steven Joyce won the day and the Cabinet opted to have a CCO for transport.
Like everything, he said, the model had its strengths and weaknesses, "but I think it's got the right balance between political oversight and operational governance".
Asked if the elected representatives were being hamfisted, he said: "My view is that the Auckland politicians currently under-estimate the size of the job they are taking on and they need some tools to help them do it.
"They'll need an operational organisation that can make these calls on their behalf."
HAVE YOUR SAY
* The Herald continues its campaign to highlight the fundamental shift in the democratic constitution of the new Super City. Aucklanders will be virtually locked out of decisions involving important issues, including transport and waterfront development.
* Email us your views: newsdesk@nzherald.co.nz
* Public submissions by March 26 - www.ata.govt.nz
FOR

* Transport Minister Steven Joyce
* Local Government Minister Rodney Hide
Cabinet
* Auckland City Mayor John Banks (for regional projects only)
* Rodney Mayor Penny Webster
* Franklin Mayor Mark Ball
* New Zealand Council for Infrastructure Development
* Employers and Manufacturers (Northern)
AGAINST
* Treasury
* Department of Internal Affairs
* Ministry for the Environment
* Ministry of Economic Development
* Auckland Regional Council
* Manukau Mayor Len Brown
* Waitakere City Mayor Bob Harvey
* North Shore Mayor Andrew Williams
* Papakura Mayor Calum Penrose
* Auckland Chamber of Commerce chief executive Michael Barnett
* Many of Auckland's 30 community boards
* Local Government New Zealand