1814 GREAT SOUTH RD, BOMBAY
SIZE: Land 2565sq m, house (approx) 180sq m.
PRICE INDICATION: $1.235 million.
INSPECT: Sun noon-12.45pm.
SCHOOL ZONES: Bombay School, Pukekohe High School.
CONTACT: Sandra Bullock, Harcourts, 021 713 750.
*Plus off-street
A fitness-focussed couple adore this serene property while happily acknowledging some of its key selling points are wasted on them and their beloved bulldogs.
Power lifter Leanne Simays and her body building logistics manager husband Alex Simays first met in a gym and now own two gyms in Papakura and Howick.
Leanne says: "People comment on what an up-to-date modern kitchen we have in this house, which is kind of funny when you think about it because we eat quite basic food for our fitness."
Another big drawcard here are the grounds, including a heated pool and large rear lawn. When the Simays moved here five years ago they wanted more space for their German shepherd Xanda, who's since passed away.
Leanne says: "Now, as well as our three cats, we've got an English bulldog Tonka and a French bulldog Tank. But bulldogs aren't big on walking so they're not that fussed about all our outdoor space."
The couple like the welcoming character of the renovated 1920s Californian weatherboard bungalow after last owning a modern house.
Leanne says: "To me, a new home has a feeling of staunchness to it, a feeling that everything has to be in its place.
"This place has much more of a home-like feeling to it, despite everything having been done up smartly before we got here."
It features inviting polished native timber floors. Other details such as door handles and window hardware are in keeping with the home's character.
Leanne averages about 65 hours a week over six days managing their gyms so this property's peaceful setting is a welcome contrast.
And yet the Simays also find the location very handy.
They can be in Papakura in little more than 15 minutes, in Pukekohe under 10 minutes and get onto the motorway to Hamilton just a couple of minutes up the road.
Mature trees give the fully-fenced property with security gates privacy. Out front is a graceful circular driveway around a big magnolia tree.
Leanne says: "When we first moved here I said 'Ooh, I've got my own roundabout; I feel like the Queen.'"
They keep their ride-on mower and Alex's jetski and Harley Davidson motorbike in the triple-bay shed with double door access.
Inside, the layout makes for easy entertaining with an open-plan lounge-dining-kitchen opening to extensive decks.
Friends' children spend hours on end in the pool and when they're cajoled out can watch a DVD in the house's additional sunroom-reading room while their parents socialise.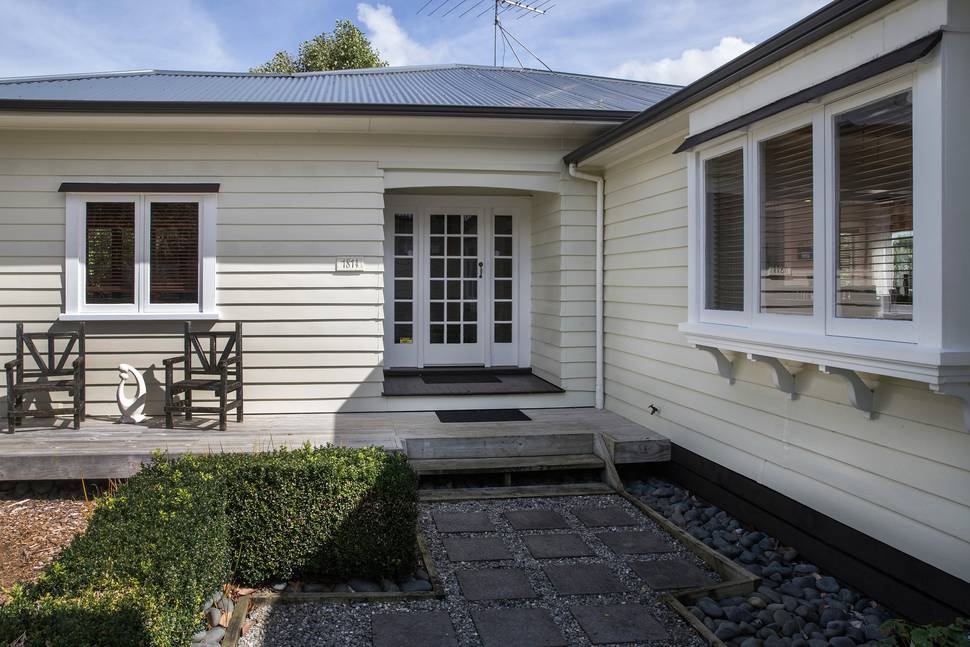 The granite-bench kitchen on gas is an impressive setting for the Simays to prepare health conscious fare such as lean chicken, tuna, salads and eggs.
Keen fisherman Alex likes the outdoor sink next to their deck's barbecue area.
The master bedroom with walk-through wardrobe is accompanied by three more bedrooms.
Leanne is a fan of the easy-clean Clearshield shower glass previous owners put in the master's en suite and the family bathroom.
She also loves this home being warm and dry with its sunny orientation, insulation, ducted heat pump and moisture ventilation system.