56B ARNEY CRES, REMUERA
SIZE: Land 750sq m, house 402sq m.
PRICE INDICATION: Above CV of $4.7 million. By negotiation.
INSPECT: Sat/Sun 3.30pm-4.30pm.
SCHOOL ZONES: Victoria Avenue School, Remuera Intermediate, double grammar.
CONTACT: Terry King, ph 021 484 332.
When Rosi Horrocks describes herself as "an old house girl" she is certainly not referring to her age.
The Auckland doctor, who has run clinics in Auckland and Queenstown that specialise in natural hormone replacement therapy, is talking about her lifelong love of the character houses she has lived in for much of her life.
That is, until just over three years ago when she and partner Simon Rutherford chanced upon this modern Remuera home.
The couple had been living in a Tudor style, heritage-listed house in Parnell in 2012 when Rosi decided to sell it after only a few months because "it felt like a dungeon, had no sun and was too close to the noise of Auckland's container port".
It took five months of searching before she and Simon found this 12-year-old Arney Cres home - one of three large homes which are down a shared, secure driveway and have excellent views of the inner harbour, Devonport and Rangitoto Island.
"We have lovely neighbours on both sides. They are very friendly but we also keep pretty much to ourselves and our properties feel private from each other."
The 402sq m, three-level home is bagged brick and cedar, has a tiled roof, aluminum joinery and beautiful travertine floor tiles.
"I'm a serious villa-type girl. I love wood and brass and gold fittings. I had never lived in a modern house and I didn't think at first that I'd be able to cope with aluminum joinery," says Rosi.
"But I'm also one of those people who knows within 10 minutes of walking into a house whether it feels right and this one did. It's well built, very practical and I have loved it."
The home's modern yet timeless design complements an impressive collection of antique furniture and gilded furnishings that Rosi has collected over the years.
"Simon is a minimalist but I have turned the house into a home with all of my things. And with only two of us here there is plenty of room for us to have our own spaces."
Multiple living spaces include four bedrooms - two of which Rosi uses for an eye-watering collection of clothes, shoes, hats and handbags.
"I think only a couple of other people in Auckland have as many clothes as I have."
The house also has four bathrooms, three living rooms, a study, outdoor terraces on all levels, an internal lift, and several generous storage cupboards.
One-third of the triple car internal access garage on the middle level is also used for storage.
This level, where you enter the house, includes the kitchen, dining room and a formal lounge that opens to a covered north-facing terrace that can be enclosed in bad weather.
The terrace leads down to a heated swimming pool and Italianate topiary garden that Rosi has recently had landscaped.
"It will look even more fabulous in a year's time. I love gardening; it is how I get over all of the pressures of being a doctor."
Also on this level are a full laundry that opens to a small paved garden and utility area on the eastern side of the house and a large powder room.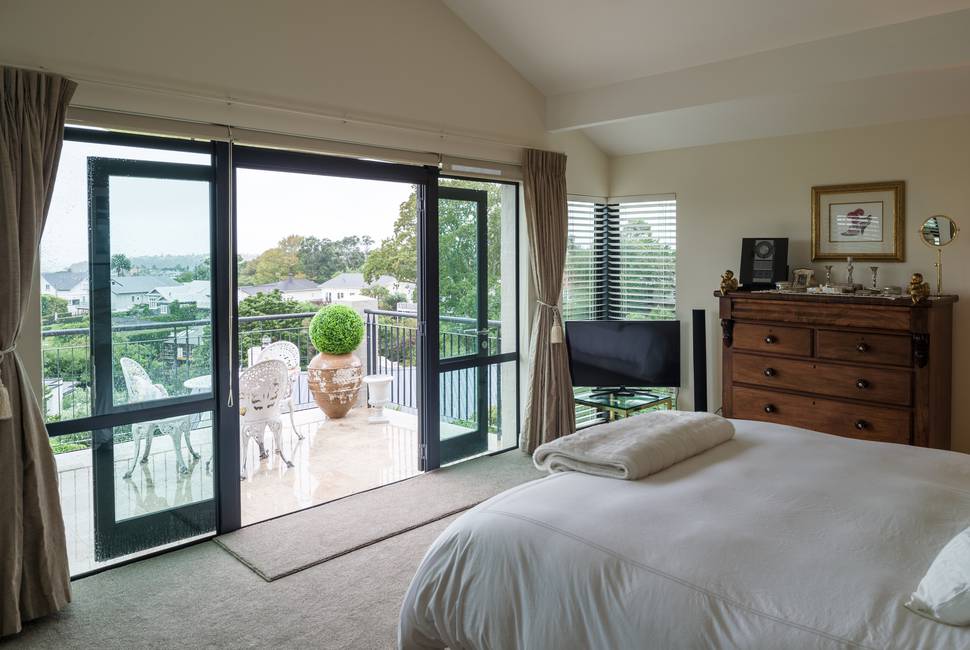 Upstairs are four bedrooms including the master, which has spectacular harbour views from its north-facing balcony and a "serious" wardrobe, and three bathrooms.
The lower level includes a fourth bathroom as well as a study and large living room which have bi-fold doors that open out to thte patio and pool.
The home's sought-after location in Arney Cres is close to Newmarket, Remuera and the central city.
Rosi has now bought a 1.4ha property in Little River near Akaroa and plans to divide her week between there and Auckland.