57 LINCOLN ST, PONSONBY
SIZE:
Land 367sqm, house 110sqm.
PRICE INDICATION:
Buyers indication upwards of $1 million.
INSPECT:
Sat/Sun 1-1.30pm. Auction onsite 1.30pm September 13.
SCHOOL ZONES:
Richmond Rd School, Ponsonby Intermediate, Western Springs College, Auckland Girls Grammar.
CONTACT:
Felicity Scott, Barfoot & Thompson, ph 376 3039 or 0274 522 241.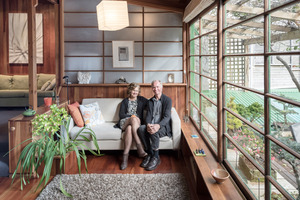 Architect Russell Withers had some very definite ideas when he set about designing his own home on a sloping site in Ponsonby 34 years ago.
He wanted visitors to get a sense of arrival, and put a lot of thought into achieving that aim.
From the road, the house -- which is surrounded by traditional turn-of-the-century villas -- looks deceptively unassuming. Russell resisted the temptation to put the front door on the street level and instead, steps lead down the side of the building to the entrance.
"It's a bit of a journey to get here, then you turn a corner not knowing what is to come, and there it is, " says Russell.
"It's definitely not a place you stumble into," adds his wife Fran Darragh. "You feel like you have arrived."
At the bottom of the steps, visitors are greeted by the sight of a courtyard garden with a fishpond, two outbuildings and Russell's impressive collection of bonsai plants. The house is entered via a deck partially covered by a bougainvillea-clad pergola.
You walk straight into a spacious open-plan living/dining/kitchen/ lounge area, with striking wooden walls, floor and vaulted ceiling.
The generous use of warm matai not only gives this part of the house an exotic feel, but connects it with the outdoor area, which is easily viewed through huge sliding glass windows. This area is north-facing and sun streams in the windows in winter when it is low in the sky and the bougainvillea on the pergola has no leaves. But in summer, when the sun is higher and the blooming bougainvillea provides a canopy, the living room doesn't get too hot.
"We love sitting here and just looking out on the garden year-round," says Fran. "It is very relaxing."
The fireplace is made of bricks (now plastered over), which came from a mattress factory which used to occupy the site and were dug up from the garden. The kitchen was modelled two years ago and now includes a striking marble benchtop.
Originally the house consisted of only the living areas, kitchen and a bathroom. Fran and Russell slept behind a screen in the raised secondary living zone -- known as "the snug" -- which is off to one side and today is a cosy area housing the TV.
The house was expanded to cater for the arrival of daughter Sarah and son Kelly. A few steps up on the next level are a bedroom and a large storage room, and another flight of stairs leads up to the top floor. Up here, Fran and Russell's bedroom and the guest room across the landing have doors opening out on to a north-facing deck that is a sun trap.
"It's a great spot to sit and read, although it can get pretty hot," says Fran.
In the garden, one of the outbuildings is used as an office by Fran, a counsellor and psychotherapist, and its location at the bottom of the steps means it is easy for visitors to access. The other is Russell's office, although in the past it was a sleepout used by each of the children when they turned 18. It has an adjoining bathroom, so was the perfect place for independence-seeking teenagers.
The garden had previously included a section of lawn, but was paved to "withstand the trampling of teenage feet", as Russell puts it, when the children's friends came to visit. Fran and Russell have had dozens of their friends there for parties and say the indoor-outdoor flow makes it a very sociable home.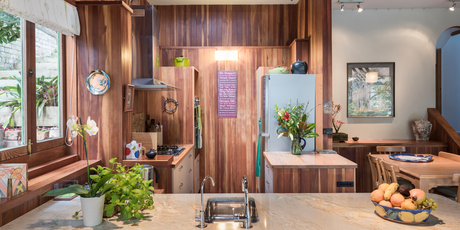 "It is a romantic place, and it has got a lot of personality," says Russell.
It is also in a prized location, just a few minutes walk to Ponsonby Rd and all its cafes, restaurants and shops. "There's a real community feel to the place, yet you are so close to the city," says Fran. "We walk everywhere."
After more than three decades in the house, she and Russell are moving to be closer to their grandchildren, and hope new owners will appreciate the house -- and all the thought that went into it -- as much as they have.