890 WHANGAPARAOA RD, MANLY
SIZE:
Land 3431sq m, house (approx) 270sq m.
AUCTION:
2pm September 21.
INSPECT:
Sun 1-2 or by appointment.
CONTACT:
Karen Franklin, Harcourts, ph 021 779838 or 09 4285635.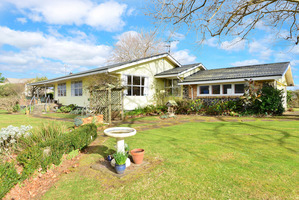 COAST & COUNTRY
4 1 2
890 WHANGAPARAOA RD, MANLY
SIZE: Land 3431sq m, house (approx) 270sq m.
AUCTION: 2pm September 21.
INSPECTION TIMES: Sun 1-2 or by appointment.
CONTACT: Karen Franklin, Harcourts, ph 021 779838 or 09 4285635.
PHOTOS/SUPPLIED
This hard-to-come-by, flat 3431sq m section, that accommodates this home, first a bach for Bob and Ngarie Duncan and now their retirement base, is a huge drawcard for people attracted to the lifestyle the peninsula offers but also wanting more than the common 700sq m.
Bob and Ngarie bought the property in 1970 when they were living in Remuera and Bob was a partner of law firm Jacka McElroy and Duncan. His significant career is noted by a room named in his honour at the Auckland CBD's Chancery Chambers, and he also served as chairman and president on many organisations including St John, the Auckland Chamber of Commerce and the Auckland Club.
It was that raft of commitments -- "We were as busy as could be," says Bob -- that lead to the couple looking to buy a holiday base, somewhere they could escape the city for holiday breaks with a physical distance away from Bob's workload.
They had three daughters, all in their teens in 1970, and had tended to head to Taupo, Rotorua or Hamilton for summer and school holidays.
"But we weren't able to by the time we bought this property," explains Bob, "because we had a son, some years after the girls, who was gravely unwell and was an outpatient of Greenlane Hospital and we weren't expected to be more than within an hour's drive of Greenlane. That's what persuaded us to look around on the peninsula.
"We came about this property which turned out to be a good buy and we bought it.
"The girls grew up here, and our son, and all their friends and school contemporaries had families with properties or baches up here."
The weatherboard home has hosted many happy family gatherings -- a single garage was converted to a bunk room with toilet, a basin and a shower to make sure there was always enough space for family as grandchildren and then great grandchildren children started to arrive -- and then in 1989 Bob and Ngarie left Auckland to retire to the peninsula. In that time they have extended the lounge, reroofed with Colorsteel and replaced original windows with alloy framed windows.
The house has four bedrooms, although they have turned one into an office, the dining room, a kitchen big enough for Bob and Ngarie to have breakfast in the morning, the large lounge and the two decks.
"We can switch from one deck to the other, depending on the weather," says Ngarie. They have sea views to the east, garden views on the west.
When the Duncans bought the property, it was almost three acres. Bob tells how it was the piece left in the middle of a subdivision in the 1920s when there was no road out to peninsula.
"The early access to the subdivision was a wharf at Little Manly in the 1920s and that was the way people got from Auckland City to the peninsula and to the subdivision.
"When the Second World War came, the military finished the gap in the road."
Ngarie, a keen gardener who has a pathway named after her at Mt Eden's Eden Garden, tried using the land for grapefruit but storms damaged the crops and the couple decided to subdivide.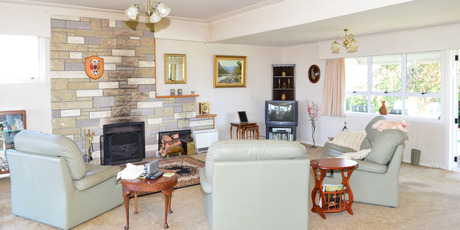 "We created a body corporate and built houses on it and sold those houses and one by one they have freeholded the houses and sites," says Bob.
Views have been protected by height restrictions.
"We kept an open patch that enables the view the water to be enjoyed by each of the nine houses we built and also our view in front of us. We look across to Rakino. We also built a swimming pool on the land and whoever buys this property will also have use of this pool."
The couple, now well into their 80s, are selling to move closer to family in Auckland.
"It's a real family home and certainly our family has enjoyed it," says Ngarie.