Buyer likely to bowl 1930s home that sold for more than $500,000 above valuation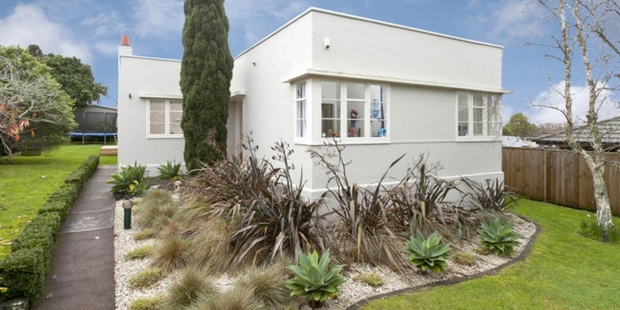 A newly renovated 1930s Greenlane home has snatched $1.36 million at auction - more than $500,000 above its capital value - but is likely to be demolished by the buyer.
QV details reveal the property at 14 William Ave was purchased by the vendors for $1 million in March last year - earning them about $710 a day in capital gains.
The four-bedroom art deco house has a CV of $850,000. It is a short walk from Cornwall Park and sits on a subdivisible 814sq m section.
Barfoot & Thompson agent Scott Haydon said five bidders, including the buyer, had vied for the property at an auction on July 31.
"It started at a million and didn't stop until it reached $1.366 [million]."
He was surprised at the final sale price and had expected the property to fetch in the region of $1.2 million.
"It's probably a bit more than what we were expecting."
The vendors, who were involved in the construction industry, were a young family who originally planned to make it their long-term family home. However, they had decided to move to Pakuranga for the area's schools.
Mr Haydon described the family's $366,000 capital gain as "not too bad" for just 17 months' ownership - though they had spent an unknown amount on improvements.
They had "tidied up" the property - which included adding a deck and painting - but much of the renovation work had already been completed by the previous owner.
The 151sq m home, described as having "loads of charm", is in the Ellerslie School zone and "is all ready for you to simply move in and enjoy", the listing ad reads.
It features "light filled living areas overlooking the deck and garden where kids can play outside while you entertain family and friends".
The house also boasts a modern kitchen with a central island bench, four generous bedrooms, and a modern tiled bathroom. Concept plans have also been drawn up for an ensuite.
"With plenty of storage throughout the home plus a large double garage with separate storage room (which may be converted to an office), this family home will exceed all your expectations."
Mr Haydon understood the purchaser planned to develop the property, which was likely to mean pulling down the newly renovated home.
"It's subdividable. [But] it's difficult to leave the current house on-site."

Hot Property
• Four-bedroom 1930s Greenlane home sells at auction for $1,366,000 - more than $500,000 above its $850,000 valuation.
• The 151sq m house sits on an 814sq m section but is likely to be bowled by the developer.
• The renovated art deco house was bought by the vendors for $1 million in March last year.
• They have made $366,000 in capital gains in 17 months - about $710 a day.