714 MOUNT EDEN RD, MT EDEN
SIZE:
Land half share 923sq m (cross lease); house 170sq m
PRICE INDICATION:
Interest over $1.3 million
INSPECT:
Sat, Sun 2pm-2.45pm. Auction tomorrow, 3pm on site
SCHOOL ZONES:
Epsom Girls', AGS
CONTACT:
Geoff Jones, Harcourts, ph 021 749 886
FEATURES:
*Plus separate wc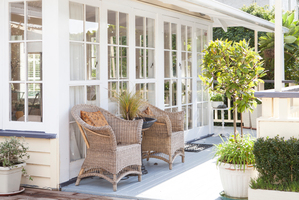 When award-winning children's book author Ted Dawe opens the door to his neat and character-filled weatherboard Mount Eden bungalow, the scene behind him befits the image of a man in the creative world. In a wide, bright hallway dozens of eclectic artworks are on display and, of course, books are everywhere.
To the left of the entrance is the master bedroom, with typical bungalow features such as leadlight windows and beamed ceilings -- and surprisingly generous wardrobe space; to the right lies Ted's library and office, a large cosy space with a traditional English feel.
This room segues through elegant glass doors into an exotic living room, filled with treasures collected by Ted and his artist wife, Jane Ridall, on their frequent overseas travels. Large windows frame a pleasing view of the neighbouring suburb of Epsom, and its attractive hilltop homes.
The country-style kitchen is next, at the rear of the house. It occupies part of a large space which also includes a dining area and sunroom.
"We tend to spend most of our time out here, particularly in winter, because it's just so pleasant and warm," says Ted.
The decking outside also enjoys full sun. "There are certain areas where we like to sit at different times of the day when we're home," explains Ted, who is the director of studies at Taylors College for international students, alongside Jane, the head of the school's art department.
Back inside, teenage son Oliver's bedroom lies off the hallway, which also features a total surprise: concealed stairs which can be pulled down and used to access a child's dream play area in the attic. "As you can imagine, when Oliver and his friends were small this was an absolute magnet to them," Ted says, smiling.
The upstairs bathroom has recently been refurbished, in keeping with the age and style of the dwelling and the separate toilet is one of the prettiest rooms in the house!
Downstairs are another two bedrooms, each with good storage facilities. One enjoys its own private courtyard, while the other also has great garden views. The second bathroom is neat and functional and the separate laundry is a bonus, as is Ted's roomy and warm workshop where he enjoys working on his DIY projects.
A double carport under the house is accessed via a shared driveway.
The front garden is pleasant and straightforward; however, the section at the back of the house reveals all sorts of little hidden spaces and Jane has landscaped each one in a slightly different fashion.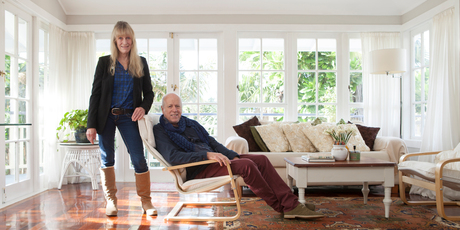 With an open wood fire in the living room, the house has gas mains for heating and its open, airy layout and polished floors keep it cool in summer.
Fully fenced and exceedingly private, the property is accessed by security gates at the front of the property.
At 170sq m, the house enjoys plenty of space but the couple always felt they'd like more of a view so they recently had an architect draw up plans for a charming third storey, which would include a master bedroom suite, library, dressing room and Juliet balcony. However, they've decided not to proceed with this project, having fallen in love with a house at Northcote Point that has an existing view, but Ted and Jane are more than happy to leave the plans behind for the new owner.
"We've really loved living here," reflects Ted. "It's in all the best school zones, which has been wonderful for Oliver."