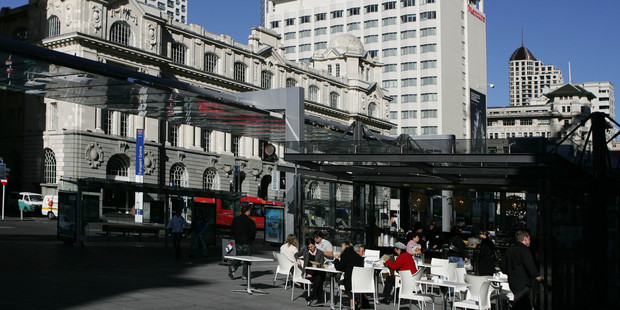 The privatisation of Queen Elizabeth Square for a giant mall downtown in the CBD was initiated by Auckland Council last year, documents show.
Papers released under the Official Information Act show council officers believed the civic space had "considerable development potential" as part of the redevelopment of the Downtown Shopping Centre block.
"Auckland Council therefore invites Precinct Properties to consider the land at Queen Elizabeth Square as part of their masterplanning exercise," says a confidential paper.
The paper, a design and development brief for Precinct dated October 18, 2013, outlined the "unique opportunity" to redevelop the shopping centre in conjunction with council plans for the downtown area.
The brief said the square was a "failing public space" and any sale of the land would need to be matched with new public space in the area.
The papers show Precinct has talked with Mayor Len Brown and mayoral staff three times on the proposal, but no documents or minutes exist for the meetings between October and December last year.
Most councillors knew nothing of the proposal until May this year when they had less than 24 hours to consider a report on the privatisation of Queen Elizabeth Square, where they voted 14-7 to approve the sale in principle to Precinct.
The criticism of the square by council officers isn't shared by Mario Madayag, the Californian architect who won the design competition in 2000 for Britomart transport centre and established design principles for the waterfront and downtown area.
He said the council was not doing enough to bring the important civic space to life. "Anchor it with some type of entertainment venue along with simple public amenities such as seating along the edges, fixed or casually placed French cafe type chairs and you have what every European square has ... It's not that hard," said Mr Madayag from the United States.
"In the future I wouldn't want people asking the same question we ask now about the [time] when all the tramway systems were replaced by buses. What were they thinking?"
Precinct chief executive Scott Pritchard said the privatisation of Queen Elizabeth Square "was not a debate for us", but a debate for council.

The road to privatisation
October 2013 - Council design brief invites Precinct to consider Queen Elizabeth Square for mall.
October-December 2013 - Precinct meets Mayor Len Brown and mayoral staff to discuss the idea.
May 2014 - Councillors given less than 24 hours to consider privatisation of square. Vote 14-7 for sale in principle.
December 2014 - Precinct hopes to share plans with Aucklanders.