With the NZ population getting older, a rest-home investment just cannot lose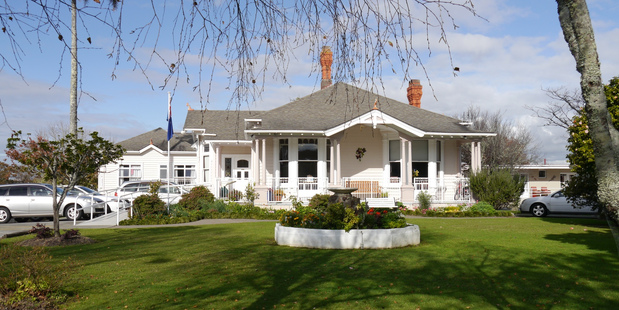 A fully leased aged-care investment property in the heart of Auckland's upmarket suburb of Herne Bay is being marketed for sale as being "in the sweet spot" for high net worth and family trust investors.
"The facility occupies one of the few large parcels of land available in a central Herne Bay location," says Harold McCracken of CBRE who, with colleague Mark Calvert and Sue Bennett of Bennett Realty, is marketing the freehold property for sale and leaseback by deadline private treaty closing Tuesday, July 15, unless its sells beforehand.
"This is a highly attractive investment proposition," says McCracken. "The Jervois Private Hospital and Rest Home at 300-302 Jervois Rd offers a strong and stable 7 per cent net return on the purchase price with a lease back by a long-established, experienced and reputable aged-care operator who intends to continue running it."
The business comprises a 46-bed aged-care facility offering hospital and rest-home beds. Bennett says it is on large, beautiful grounds and consists of two large villas joined together to create one facility just 3km west of downtown Auckland.
"The villas were extended, redesigned and refitted between 1998 and 2001 to provide a 1396sq m dedicated aged-care, rest-home and hospital facility plus 18 on-grade car parking spaces," she says. "A series of tasteful refurbishments ensure that the building complies with modern safety standards while retaining the essential character of the home.
"In addition, large grounds create a belt of green around the buildings with plenty of space for residents to relax and enjoy the outdoors."
Bennett says the facility is certified for full hospital care and provides a mix of both rest-home and hospital accommodation with 46 beds, and a lower ground floor that includes administration offices.
"Inside the home is a range of accommodation options to choose from. All the rooms have different sizes and layouts, many of them showcasing original Victorian features. There are accommodation options for couples as well as en suite options. range of common areas, ranging from quiet and reflective to active and communal, adds flexibility to life in the home."
Bennett says it may be possible to convert the administration space to provide for additional rooms for residents with a higher level of dependency, and enhance occupancy levels within the facility to provide for a greater proportion of hospital beds.
Calvert says that TerraNova will enter into a leaseback on the property to continue its aged-care operation, paying a rent equivalent to 7 per cent of the sale price of the property.
He says TerraNova is a reputable and established player in the aged-care sector, owning five specialised residential care facilities in the North Island in Auckland, West Harbour, Hastings, Taupo and Lower Hutt.
"All of the company's homes carry current certification from the Ministry of Health and are contracted to the local district health boards to provide care ranging from respite to long-term care," Calvert says.
"The business is an ideal size, as it allows the generation of sufficient resources to invest in standards of care, while remaining small enough to provide individualised and localised care on each site."
With frontage to the southern side of Jervois Rd, the facility offers view shafts down Marine Parade towards the inner harbour. It is 250m to the west of the intersection of Jervois Rd and West End Rd.
"This is one of the few large parcels of land to be available in Herne Bay," says McCracken.
"It does not have aged-care competition in the surrounding area and the facility is surrounded by substantial single family homes."
Calvert says there's no doubt property values are underpinned by the New Zealand's ageing demographic.
"Properties with the style, standard and operation of Jervois Private Hospital and Rest Home can expect to provide a high-quality investment prospect for many years to come," he says.

Features
• Aged-care hospital and rest home with 46 beds.
• Ideal Herne Bay location in affluent city suburb.
• 7 per cent net annual rental return on purchase price.
• Lease back to established reputable aged-care operator.
• Potential to increase number of rooms.
Large landscaped grounds.