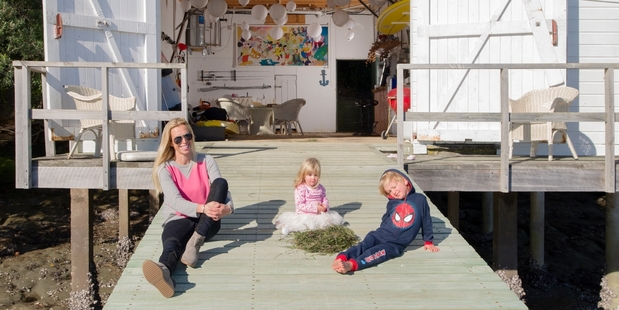 Properties with boatsheds have become a hot commodity in Auckland's booming housing market - some with price tags up to $14 million.
Real estate insiders said the waterside properties had been attracting a lot of attention from prospective buyers, which had likely prompted others to list their own seaside dwellings, with five impressive offerings for sale in the city.
In Herne Bay, the 733sq m property of adman David Walden has self-contained living quarters above a picturesque boatshed.
The three-storey home is on the market with Graham Wall real estate for $6.2 million, and the boatshed was a prominent feature with its large outdoor entertaining area and steps into the water.
Sotheby's agent Joe Telford said a boatshed property he was listing at 31 Marine Parade had attracted a lot of interest - but he would not reveal the price tag.
The picturesque two-storey boat-shed has a living quarters above as well as a boat ramp, and sits adjacent to a three-storey, four bedroom, two kitchen home.
"For these sorts of properties it is very hard to use traditional methods to value it because it is so unique and sought after.
"We had some tenders in last week and none of them were acceptable and now we are in the negotiation process." The home's capital value was $3.7 million.
Bayleys Real Estate agent Lynda Betts said a boatshed property she is selling in Bayswater with an asking price of $1.9 million had also been drawing great interest.
"That water access is what people love about it," she said. "Being able to go out to the bottom of the garden and take your boat out for a sail ... is of huge interest."
The property, at 1A Beresford St in Bayswater, had attracted a number of offers, she said.
"The people that live in at the moment have loved having [the boat shed] and the people that have viewed it and were interested enough to put offers in have also loved that aspect of it."
Other waterside properties that were drawing interest included Boat Shed Bay on Waiheke Island that was expected to fetch more than $14 million for the 4.5ha block that included a large five-bedroom home, guest house and four large boat sheds.
Mr Telford said it was likely vendors were capitalising on the attention of other boatshed properties by listing theirs on the market, too.
"It is possibly not a coincidence, we have quite a bit of interest in the property.
"There is so few of them in Auckland so I think by seeing them in the market it might have stimulated people to think, 'Let's act now'.
Mr Telford said it was also widely believed to be very difficult to obtain resource consent to build new boat-sheds, so those with existing structures were hot commodities.