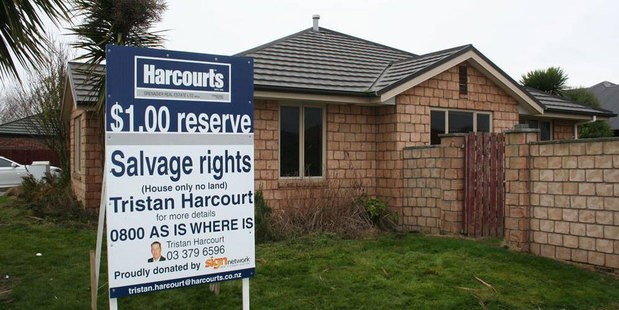 A Christchurch couple's red-zoned house that had a reserve price of $1 has sold for $10,500 at auction tonight.
Michael and Phyllis Thom sold the remains of their New Brighton property at an auction that attracted eight bidders and plenty more well-wishers who also donated more than $5000 to the couple.
Realtor Tristan Harcourt said the couple were "very happy".
"They're obviously emotional but very happy, too."
Mr Harcourt said there had been six bidders on the floor and two bidders on the phone lines.
More than $5000 was also donated to the couple through a bank account and donations made tonight, he said.
"That was extremely overwhelming for them."
He said the generosity of people had touched the Thoms, whose house wasn't insured at the time the earthquake hit.
"Compared to what they've lost it's not a lot."
The house included appliances such as a dishwasher and wall oven, and the buyer has until August 11 to salvage what they can before the site is cleared.
The Thoms' goal was to raise enough money through the auction to get to the United Kingdom to visit family.
To help them on their way real estate firm Harcourts Grenadier waived all fees and commissions, and guaranteed the couple their trip to the UK out of their own pocket, regardless of the sale.
Next story: Landlord's DIY work cost teen her life
- APNZ