Landmark building reflects era of financial success and is now a fully leased drawcard for tenants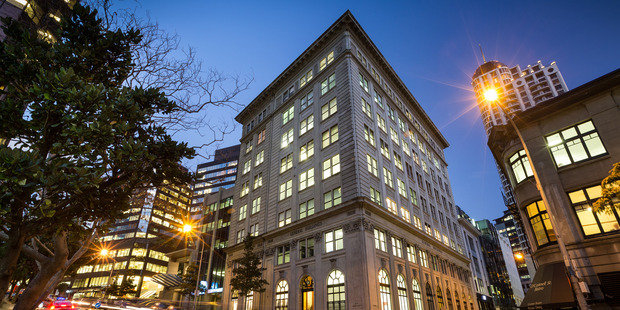 A historic Auckland city building valued for its early 20th century Chicago-styled architecture but with a modern and contemporary heart is for sale.
The fully leased General Building at 29-33 Shortland St has been placed on the market by its owners, John Courtney, founder of Shortland Management Ltd, and his partner, Michelle Deery.
The nine level building dominating the corner of Shortland St and O'Connell St is home to several leading professional businesses and generates net annual rent of $1.77 million with a weighted average lease term of 4.7 years.
The freehold property, on a 771sq m site, is being marketed by Jason Seymour and John Green of Colliers International who are selling it by private treaty closing on Thursday July 3.
"We have owned this building for 10 years, putting time, money and effort into it," Courtney said. "We have got to a point where it now requires little work and premium occupiers are consistently asking us for high quality space to lease.
"We are mindful of our legacy but believe this is a great time to offer the property to the market. The General Building is a piece of Auckland's heritage and has become a key contributor to the city's business community and it will continue to add value to the city's future."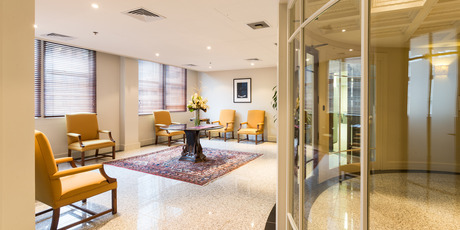 Because of the building's heritage status, opportunity for further development was limited.
"However, a creative owner could consider developing the 103sq m courtyard into additional office, residential or hospitality space," Courtney said. "Over the last 10 years the building has experienced average rental income growth of 10.2 per cent a year and its exceptional quality, heritage and location should continue to attract premium rents and healthy growth."
Built as Yorkshire House in 1928 for the Yorkshire Insurance Company, the building was designed to reflect the burgeoning strength of the financial industry of the 1920s of which Chicago was the epicentre.
The Historic Places Trust says the General Building "demonstrates the growing influence of American prototypes in the commercial architecture of early 20th century New Zealand, and the link between such design and working practices.
"It makes a valuable contribution to Auckland's urban streetscape and is a reminder of Shortland St's history as one of the main commercial thoroughfares in the town."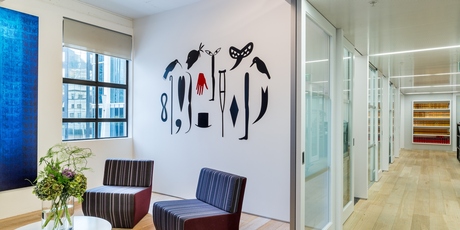 An additional floor was added to the building in the 1970s and it now has eight floors of offices above a ground floor occupied by the Wine Chambers restaurant and Working Style menswear with basement space below.
Courtney said the building, designed by Bloomfield and Hunt, was inspired by one of the earliest skyscrapers designed by Louis Sullivan, built in Chicago between 1883 and 1885.
"Chicago-style design was developed for commercial buildings in late 19th century America, and combined a restrained ornamental approach with the high-rise form demanded by inner city developers," he said.
"It was considered to be one of the finest buildings in Auckland when it opened, but only two-thirds of the current structure dates back to 1928. In 1976 another portion along the eastern side of the building was built as a replica to expand the building."
Courtney said part of the attraction for him when he and Deery undertook due diligence on the property 10 years ago was its status as "a grand but under-appreciated" building in a pivotal location in the centre of Auckland's legal district.
"The General Building exemplifies the approach we have always brought to property. When we started out 14 years ago, we saw a significant opportunity to specialise in refurbishing and creating contemporary fit-outs in character buildings as well as upgrading tired 1980s buildings in the Shortland St area for professional tenants. Over the years we have built up a portfolio of office properties with floor areas that are too small for big companies but too big for small businesses, dividing them up into multiple tenancies and providing 'walk in' customised fit-outs for our clients.
"We focused on this part of the CBD because we saw the potential for the type of boutique businesses we wanted to attract, including specialist legal and accountancy practices, business advisory consultants and investment managers.
"Today, Shortland Management owns and manages about 18,500sq m of space in the area leased to around 80 client businesses, mostly occupying 100sq m to 300sq m of space."
Courtney said the General Building was one of Shortland Management's most popular buildings with occupants because of its difference.
"Creating the right community has been an important goal for us. This has been achieved because the building has been a star in our portfolio in terms of leasability and in terms of people wanting a unique location for their business."
"Our aim is to improve the working environment, providing customised spaces to attract talented businesses and turn our buildings into destinations.
"The success of this approach has been confirmed by the fact that the building's eight office floors, which offer 578sq m net lettable area floor plates, are 100 per cent leased to premium occupiers."
Shortland Management's operations manager, Samantha Sleigh, said the extensive refurbishments of the building "celebrated its heritage while meeting the exacting standards of our company's clients".
Most of the building's original detailing had been clumsily removed in the 1950s and 1960s.
"John and Michelle identified an opportunity to contrast modern interior fit-outs with the building's heritage. It is a great juxtaposition and creates an exciting building.
"Today, visitors step through the arched entrance into a marble and elaborately detailed foyer, which is mainly in its original form, although we have put new floor lobbies through the building.
"Because the building was constructed in the Chicago style, which used steel reinforcement, it was already impressively strong for a 1928 building -- at 56 per cent of today's New Building Standard (NBS).
"However, we took it forward to support our clients in a premium space, to meet and exceed our clients' requirements. Most recently, we undertook a seismic upgrade last year, which took the building up to 70 per cent of NBS.
"On the office floors, we have taken great care to blend our clients' needs with our desire to recognise and celebrate heritage, including revealing pillars, walls and beams. The first companies attracted to the building liked this mix as have subsequent occupiers. The building has been well looked after and little further refurbishment is now required."
Shortland Management's chief financial officer, Nadeem Ali, said the building had an exceptionally stable, long-term client base.
"Leading law firms, barristers, advisers and consultants call the building home," he said.
"They include award-winning, independent global investment management company NZ Asset Management, Asia-Pacific public affairs consultancy Baldwin Boyle Group, employment law and litigation specialists LangtonHudsonButcher, and Robertsons Law, insurance law specialists.
"Over the last two years in particular, a number of lawyers have said to us that the standout nature of the building helps them define their businesses.
"Most recently, Richmond Chambers have joined us, and the quality of their fit-out showcases the potential of the building.
"Thanks to the great vision of Chris Dobbs, we recently welcomed leading men's fashion retailer Working Style to the ground floor. Their 163sq m flagship store is ideally placed to display their outstanding range of menswear and tailor-made shirts and suits.
"The General Building's location, architecture, attractive tenancies and community of leading businesses have contributed to a record of strong leasing demand, low vacancy, premium rent levels and consistent rent growth. Together these attributes create an exciting investment prospect."
Courtney said the sale of the General Building was perfectly timed to take advantage of the area's recent rapid development.
"The Shortland Street landscape has changed dramatically over the past decade. We have seen the creation of the nearby Deloitte Centre within the heritage skin of the Jean Batten Building, considerable investment in the revitalisation of Fort St into a pedestrian-friendly retail, cafe and restaurant precinct, and now the evolution of O'Connell St into another similar shared space."
Shortland Management was also behind the transformation of the nearby Hotel DeBrett, meticulously renovated in 2008. The renovation included the addition of an interior courtyard, helping to create a boutique hotel environment.