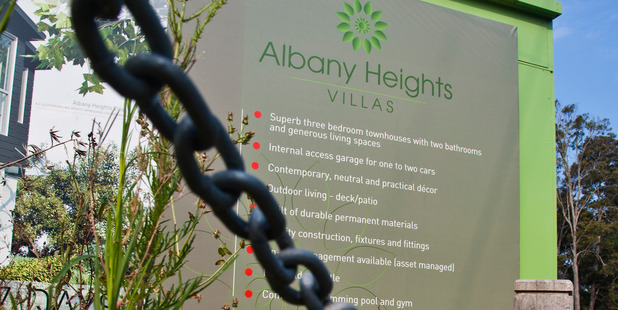 A thrice-bankrupted property developer allegedly withdrew investor funds associated with troubled Auckland housing projects and is now being chased for close to $300,000 in the High Court.
Damien Grant and Steven Khov of Waterstone Insolvency, as liquidators of Blake Street Trustee, have filed civil action in the High Court at Auckland against triple-bankrupt Peter Chevin.
The case is in its early stages and is likely to be heard sometime after November this year.
Chevin is a former director of Blake Street Trustee, which the liquidators say relied on agreements and investments schemes associated with property projects on Auckland's North Shore to generate revenue.
Grant and Khov are also liquidators of Hunter Capital, Hunter Gills Road and Albany Heights Villas, which they say also participated in these development projects, which were plagued with delays and other issues.
The liquidators, in their claim against Chevin, say these projects depended on investors "signing up to a financial scheme".
Investors were recruited from Hong Kong and Singapore and deposited funds into accounts of two New Zealand law firms, with the money then transfered either to Hunter Gills Road Ltd or Albany Heights Villas Ltd and then on to Hunter Capital, the liquidators claim.
A chain of further transactions followed, which the liquidators allege ultimately meant Chevin and a person associated with him used the above three firms " to take investor funds and to transfer it to themselves for no value".
Grant and Khov's statement of claim alleges Chevin withdrew $23,754 from Blake Street Trustee between March 2010 and December 2011 without having legal entitlement to it.
The liquidators also claim another defendant in this case - who has links to Chevin - received $47,953 from the company over a similar period and that Blake Street Trustee got no value in return.
In a third withdrawal, this pair also allegedly took out $271,254 from the company's bank account during this time.
The liquidators say the pair have been unjustifiably enriched from the three withdrawals and are seeking repayment of the funds - totalling $342,961.
They also want interest and costs.
Grant and Khov allege the three withdrawals "consequently caused the company to incur creditor debts totalling $885,271".
But Chevin's statement of defence says all money paid to him was for work that he did and that numerous parts of the liquidators' statement of claim were incorrect.
"The plaintiff has not legal basis to claim the amounts," he said.
Grant and Khov had a "clear conflict of interest in their role as liquidators and/or receivers of such a closely controlled web of trusts, trustee companies and companies that Paul Bublitz and Chris Cook have created,"Chevin said .
Hunter Capital was directed by failed finance company director Paul Bublitz and Hunter Gills Road Ltd and Albany Heights Villa Ltd by property developer Chris Cook.
"Further it is common knowledge within the Auckland business community that for a minimal payment of $5000 the plaintiffs will act as 'soft' insolvency practitioners for an owner of a company that wants protection from creditors," Chevin alleged.
In response to this statement, Grant told the Herald: "it is a common mistake for people in Mr Chevin's position to assume that insolvency practitioners are like lawyers; advocates for the people who engage them. Perhaps there are liquidators in Auckland who act on such a basis. Self-evidently; as I am suing Mr Chevin for nearly $300,000 I am clearly not one of them."
Chevin, at the end of his statement of defence, requested the court strike out claims made by the liquidators.
As part of their claim, Grant and Khov are also taking action against a man they say took over as Blake Street's director and agreed to look after it until Chevin was out of bankruptcy.
This man allegedly authorised the three withdrawals at the heart of this case and is accused by the plaintiffs of not performing his duties with reasonable care and skill.
The liquidators are seeking compensation from this company director, who is the third defendant in the case.
The Serious Fraud Office said last October it was investigating a residential property development on Auckland's North Shore involving Albany Heights Villas and Hunter Gills Road.