Japanese bathhouse at thermal springs ready to be reinvigorated by new owner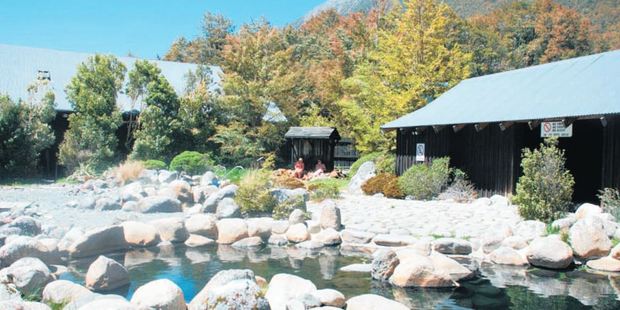 Maruia Springs Thermal Resort, described as New Zealand's most authentic Japanese-themed tourism venture and "home to the country's most remote ethnic cuisine restaurant", is for sale as a going concern and freehold property.
The resort, mid-way between Christchurch and Westport on the Lewis Pass, was developed in a Japanese bathhouse style in 1991 by Akira Matsushita and Takako Ongino.
However, after 23 years operating the resort, they are selling to return to their homeland.
Peter Harris, Bayleys Canterbury tourism and hospitality sales specialist, who is marketing the land, buildings and business at Maruia Springs for sale by negotiation, says it's interesting to see how the venue's guest demographics have changed, opening up an opportunity to reinvigorate the property under a new concept.
Over the past two decades, the business has seen a rise in visitor numbers among the "free independent traveller" sector driving rental vehicles and motor homes.
Tourism New Zealand statistics show these visitors are predominantly from North America, Europe and Australia, with domestic New Zealand holidaymakers also making up a sizeable chunk of the market.
"Visitor numbers from the north in particular have been trending up over the past three years with a parallel rise in eco adventure tourism such as whitewater rafting and most recently the opening up of various cycle tracks," Harris says.
The resort has multiple revenue streams made up of:
• Onsite accommodation featuring 19 guest rooms in various single and double bed configurations.
• Food and beverage service on licensed premises, from cafe-style breakfasts to a-la-carte dining in a 45-seat Asian-fusion cuisine restaurant;
• Outdoor hot pool, private spa and Japanese bath-house experiences.
"This resort is among the most environmentally friendly tourism ventures currently operating in New Zealand," Harris says.
"Maruia Springs is self-sufficient for its electricity supply, having a 140-kilowatt hydro power plant and a specially designed sewage purification system that results in minimal waste treatment."
Harris says there is now a well-established network of thermal pool resort operators throughout New Zealand, from Kaikohe to Queenstown.
In keeping with the eco theme and Japanese preference for minimalism, none of the guest rooms at Maruia Springs is fitted with TVs, radios or telephone.
In addition to the guest rooms and communal dining and drinking areas, the resort has staff accommodation for up to 12 people, a separate owner's residence, a staff kitchen and dining room, gymnasium and laundry facilities.
The business employs five full-time staff and 10 part-time staff.
What's on offer?
The property: Maruia Springs Thermal Resort
Where: Lewis Pass in the South Island
Agency: Bayleys Canterbury
Sale method: By negotiation
Features:
• Authentic Japanese theme
• Variety of income streams
• Almost "captive" travellers
• Highly environmentally friendly
• Ready for change of concept