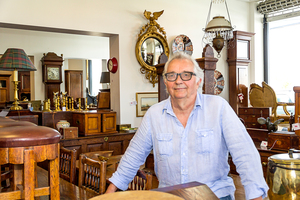 For sale for the first time in 40 years is a mixed-use property in central Takapuna comprising three connected commercial and residential buildings on a high-profile 610sq m corner site.
At 360 Lake Rd, Takapuna, on the corner with Cameron St, the property has been the business and home of well-known North Shore antiques retailer Donald Melville, who intends to retire.
As a result, the property is being offered for sale with vacant possession by Stephen Scott of Bayleys' central Auckland commercial office and Dean Gilbert-Smith of Bayleys' Takapuna commercial office. It will go for auction on June 5 unless it sells earlier.
"The property offers an attractive mix of unique and stylish commercial and residential buildings in a great location, which provide a wide range of possibilities for a new owner," says Scott.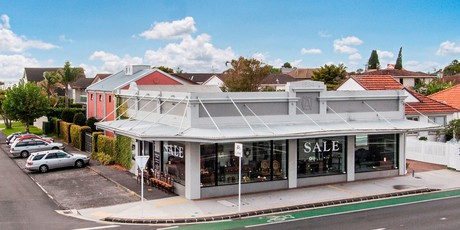 Two commercial buildings on the site total approximately 270sq m of net lettable internal space.
The largest of these is a single-level retail building in a prime corner position with an extensive glazed frontage to Lake Rd, the main arterial road linking Takapuna to Devonport and the northern motorway.
This building was constructed in 1924 by the Auckland Meat Company and was one of many corner butcher's shops that sprang up around New Zealand in pre-refrigerator, pre-supermarket days. It was home to a butcher's store for more than half a century although its premises were downsized in the late 1950s and the building was subdivided into a number of retail tenancies.
Donald Melville Antiques became a tenant in the building in the 1970s and then purchased the property and took over the whole building in the 1980s.
A second middle commercial building, with a mezzanine floor, was added in 1986 to provide more retail floor space for the expanding antiques business.
"The final piece in the jigsaw is a stunning character house which was built in 1997 and sits on Cameron St, a stroll away from both Takapuna Beach and Takapuna's central business district," says Scott.
The 150sq m, two-level, two-bedroom home is connected via a courtyard and canopy, which also provides cover for car parking, to the commercial buildings that lead through to Lake Rd. There is also a courtyard area at the rear of the home.
"The two buildings that have been added to the site have been designed by Geoff Richards Architects in keeping with, and to complement, the original corner building and all three buildings have been maintained in immaculate condition by the vendor," says Scott.
"They offer a host of opportunities for a new owner with the commercial premises ideal for another retail business, a restaurant, wine bar, or professional offices given the sought-after location on the fringe of Takapuna's CBD and close to the beach.
"With its live and work options, the property would suit another owner-occupier or an add-value investor who could potentially subdivide the property into its residential and commercial components and sell off one or more titles at some stage in the future."
The property's favourable mixed-use Business 1 zoning also opens up opportunities for developers, Scott says.
The zoning is designed to allow the development of vibrant areas by enabling a mix of residential, business, education and leisure activities in areas which have easy access to public transportation systems.
"This versatile property provides an outstanding opportunity to secure a highly sought-after position in the popular suburb of Takapuna."
The sale does not include Donald Melville's antiques business and although he wants a change from the relentless pressure of six-days a week retailing, he says it is likely he will retain an interest in the industry through an on-line trading site and six-monthly exhibitions.
He has specialised mainly in 17th, 18th and 19th century furniture made in England where he was born. He also deals in silver, copper, brass, china, decorative items and some lighting.
However, he says falling demand for antique furniture, which has accompanied the move towards minimalistic, modernist architecture and furnishings, has meant many of the industry's identities have either retired or moved onto something else.
"Many of the people who own antiques are in, or nearing, their retirement and are looking to downsize. So they want to sell rather than buy and there aren't as many buyers out there for this type of furniture. It's one of many changing trends of modern day life - who knows, antiques may be back in fashion again in another decade or so."