Irish pub in ideal spot to reap benefits from arrival of Wero whitewater venue.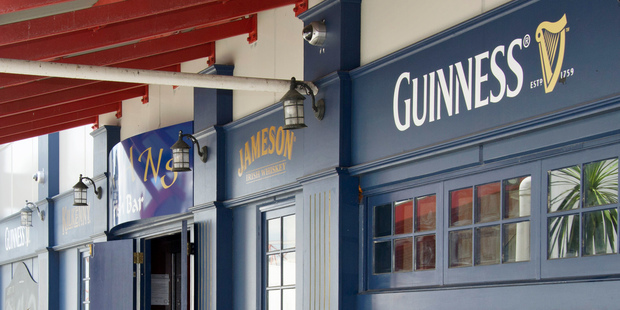 Abuilding leased to an Irish pub near Manukau's Vodafone Events Centre and close to a planned whitewater attraction called Wero will be auctioned next Thursday, providing a prime opportunity for investors.
Located at 11/792 Great South Rd, O'Ryans Irish Bar and Restaurant has panoramic views of the events centre, which is Manukau's biggest visitor destination.
The property is being marketed by Peter King-Turner of NAI Harcourts and will be sold by auction at 2.30pm on May 22 at Harcourts, 9 Sharkey St, Manukau.
"This is a good opportunity to purchase a strategically located property with an established long-term tenant," King-Turner says. "O'Ryans is already a popular destination due to being near the Vodafone Centre and Wero is expected to bring large numbers of visitors to the area."
Stage one of Wero, on which groundwork has already started, will include the attractions River Rush and the Tamariki River. River Rush will be an artificial whitewater river for recreational rafters and kayakers which is expected to attract international televised events and provide a training base for New Zealand's Olympic team.
The Tamariki River will be a water course that will be used by school groups and others to provide an introduction to rafting and kayaking.
An art gallery, cafe and interactive exhibitions are also planned for Wero.
Just minutes away, 11/792 Great South Rd is set off the main road in a small shopping area behind a Lone Star restaurant and adjacent to the Vodafone Events Centre and Wero site. The freehold title covers 547.5sq m with a 200sq m deck. The rateable value is $1,625,000 made up of $770,000 in land value and $855,000 improvements. The rates for 2013/2014 were $15,500.
King-Turner says the tavern has a well-appointed floor layout with several bar areas, meeting rooms, kitchen and cool storage.
"It is a modern and spacious building with an expansive indoor-outdoor flow and decks looking across to the Wero site. The tavern is known for its friendly and vibrant atmosphere and there are plenty of parks." It is close to State Highway 1.
Tasmin Pacific Trading has a 10-year lease from July 2010 with two rights of renewal of six years each and a final expiry date of 2032.
The rent is $144,000 a year plus GST, or 10 per cent of the turnover, whichever is greater. All outgoings are paid by the tenant.
The permissible use for the property is as a public tavern, restaurant and bar - including gaming machines.
King-Turner says a large commercial project is under way just minutes from O'Ryans. Sleepyhead has bought a 9.2ha site next to the Vodafone Events Centre to build its $45 million state-of-the-art 40,000sq m manufacturing, warehouse and distribution centre which is planned to be operational by 2017.
The investment will bring together Sleepyhead's workforce of 400 from the Otahuhu and Avondale operations and create an important manufacturing hub that will provide local jobs during development and manufacturing jobs into the future.
"The combination of the Vodafone Events Centre, the Wero development and Sleepyhead project will allow the property at 11/792 Great South Rd to take advantage of the huge growth in the area," King-Turner says. "When you stand on the decks and look out to where the Wero rivers will run, it is clear that this is one of the best locations for a tavern in Manukau."