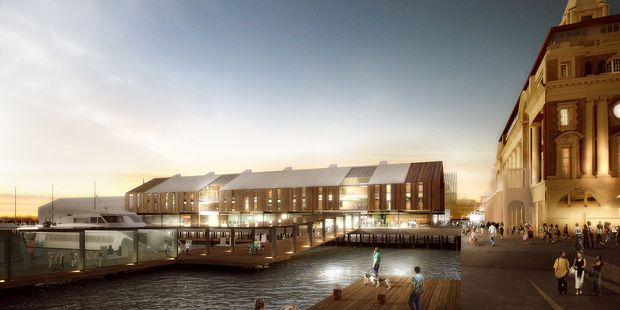 It has taken a lot of trouble and $40 million of ratepayers' money to get Queens Wharf to a position where it can become the "people's wharf". That will all be worthwhile if the outcome is an innovative and attractive public space capable of drawing Aucklanders from the bottom of Queen St.
This vision will become an impossibility, however, if a proposal to build two large commercial buildings on the wharf receives the green light.
The Ferry Project Group's plan is for the pair of three-storey buildings, with carparks, to stretch halfway up the wharf. In exchange for permission for this development, it would upgrade the downtown ferry terminal. The group says there would still be public space at ground level. The clear impression, however, is of a wharf dominated by commerce and cars, rather than serving as an inviting destination for strolling.
Furthermore, there has been no shortage of commercial development on the waterfront. Potential for still more exists at the Tank Farm.
In some instances, such as at the Wynyard Quadrant and the Viaduct Basin, attractive public spaces have been skilfully incorporated. Princes Wharf, however, is a far less attractive proposition for those on foot.
The plan for Queens Wharf seems to promise something more akin to Princes Wharf than the other developments. It is certainly not what those who want a "people's wharf" have in mind. Their wish for one part of the waterfront to serve this purpose is hardly excessive. This proposal should be rejected.