Beachfront landmark one of the drawcards in portfolio of investment opportunities being auctioned on May 14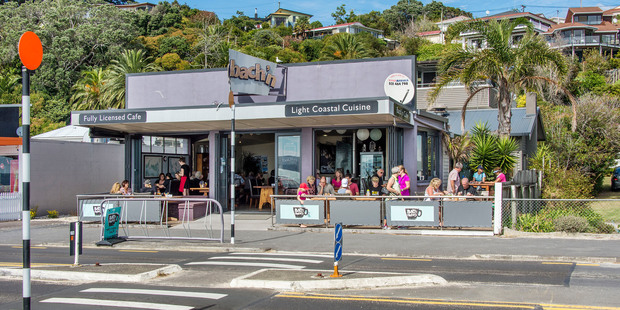 A waterfront cafe across the road from Omana Beach in Maraetai is one of several smaller commercial investment properties in Bayleys Greater Auckland portfolio of 16 commercial and industrial properties being auctioned on May 14.
The 280sq m cafe, now named Bach'n, on a 460sq m site at 249 Maraetai Drive has been a feature of the town's waterfront for more than 10 years, says Shane Snijder who is marketing the property with colleague Peter Sullivan of Bayleys Counties.
The building was constructed as a seaside home about 80 years ago.
In 1950, it was converted into a general store, which was extended in 1953.
"In 2002, the property was extensively renovated adding full height bi-fold doors that open in summer to draw in cool sea breezes and was converted into a cafe and restaurant," says Snijder.
"The cafe built up a very successful business and further renovations were undertaken in 2007 to extend the building's commercial space."
The business was sold in 2009 to the present tenant Maraetai Bach'n Ltd which has continued to build the cafe's popularity, drawing customers from the surrounding growing residential catchment, visitors from Auckland and passing motorists on the scenic Pohutukawa Coast road between Auckland and the Coromandel Peninsula.
The Bach'n cafe specialises in "light coastal cuisine" and is fully licensed.
"It is one of only three properties adjacent to Maraetai Beach and offers a relaxed seaside ambience with stunning sea vistas out towards Waiheke Island," says Snijder.
The cafe's lease runs for three years from 2012 with two further three-year rights of renewal.
Sullivan says a new owner will receive net annual rental income of $60,000, and the next two-yearly rent review is due this month.
On the other side of Auckland, two modern retail outlets at 80-84 Railside Avenue in central Henderson are being marketed by Tony Chaudhary, Grant Miller and Janak Darji.
The two units are part of the Pioneer Plaza retail complex which was developed in the 1990s and is surrounded by other substantial retail developments, including Westfield's WestCity regional shopping centre and the Waitakere Mega Centre a block away.
The units will be auctioned individually. One, of 443sq m, is occupied by longstanding tenant Curtain Studio and is producing net annual rental income of $85,300.
The company, formerly known as Curtain Supermarket, has been based at Pioneer Plaza since it opened in 1994.
Chaudhary says the national retailer, which has stores from Christchurch to the North Shore, has shown its confidence in the location by agreeing to renew its present lease which runs until February next year early, exercising the first of two 2-year rights of renewal.
The neighbouring 242sq m unit is producing net annual rental income of $55,000 and is leased as the Schoolwear Shop to Lenco NZ which sells sports, corporate, casual apparel and school uniforms. It is the only licensed manufacturer of Puma products in New Zealand.
Lenco, which uses the unit to sell uniforms for West Auckland schools as well as sports and casual clothing, last year exercised the first of two 2-year rights of renewal on its lease from September 2009.
"These units provide a great opportunity for entry level and existing property investors looking for modern retail investment opportunities in a prominent location," says Chaudhary.
"Both units benefit from high exposure to busy Railside Ave and being near high profile retailers and Westfield's shopping mall."
Neighbouring retailers include Fruit World and the Aussie Butcher which are also longstanding tenants in Pioneer Plaza, with Tony's Tyres, Appliance Shed, Warehouse Stationery and Columbus Coffee which are across the road.
Chaudhary says the units are well constructed with tilt slab walls, concrete foundations and aluminium joinery and have an A-plus seismic rating of 115 per cent of new building standard.
The larger Curtain Studio retail showroom, which is fully carpeted, has its own cart dock and roller door.
Both units have car parks at their front entrances and customers can also use Pioneer Plaza's common parking area.
Also being auctioned on May 14 is a 315sq m showroom unit at 132 Cavendish Drive, Manukau, occupied by NZ Safety, a subsidiary of Australian multinational Wesfarmers.
It is being marketed by Tony Chaudhary of Bayleys Manukau in conjunction with Mike Houlker and Sunil Bhana of Bayleys Auckland.
The unit is producing net annual rent of $48,000 from a six-year lease - starting last November 2013 - to Wesfarmers Industrial & Safety NZ, with two-yearly rent reviews and two rights of renewal of four years each.
WIS NZ is wholly owned by Perth-headquartered Wesfarmers, which has interests in supermarkets, department stores, home improvement and office supplies, coal mining, energy and industrial safety.
The ASX listed company has annual operating revenue of more than A$50 billion ($54 billion).
NZ Safety is New Zealand's largest supplier of personal protective equipment, work wear and related safety products and services and operates through a nationwide network of 24 branches.
Its Manukau premises have a ground floor showroom of 204sq m with a suspended ceiling and fluorescent lighting, a 56sq m warehouse at the rear with roller door access, and 55sq m of first floor office space, kitchen facilities and amenities.
"It's a well presented, modern tilt slab building with good car parking in a high profile main road position on a busy arterial route," says Bhana.
"It's an ideal passive investment for investors and family trusts in an accessible price range."
Chaudhary says the property is in a well-established area on the fringe of the Manukau CBD and is a popular locality for businesses ranging from smaller tenancies to larger wholesalers and retail outlets, servicing a large residential catchment from the surrounding suburbs.
Cavendish Drive is a main arterial route linking the new southwestern SH20 motorway in the west to Te Irirangi Drive in the east.
Also for sale as part of Bayleys' Greater Auckland portfolio is a 620sq m penthouse floor in Building D of the Ascot Office Park, Greenlane at 95 Ascot Avenue.
The floor, which comes with 18 car parks, is producing net annual rental income of $236,914 plus GST, with two-yearly reviews.
It has a new eight-year lease from January to an international tenant, which is also listed on the New York Stock Exchange and is being marketed by James Were and Scott Kirk, Bayleys Auckland. Tenders close on May 7.
"This is a modern, well appointed office floor which benefits from a new fit out and excellent natural light and views," says Were.
"It is on the top floor, and also comes with the building naming and signage rights which, while not used by the current tenant, are valuable given Ascot Office Park's exposure to more than 117,000 cars which drive past on average every day."
The four-building Ascot Office Park is at the Greenlane interchange of the State Highway 1 motorway.
Kirk says the lease, which has no right of renewal, gives favourable landlord options longer term.
The tenant has the right to terminate the lease with effect from January 12, 2020 or after but must give at least 12 months' notice and also pay the landlord a further six months' rent on the date of termination.
"This termination clause, should it be exercised, gives the landlord a long notice period in which to obtain another tenant as well as a significant cash payment," says Kirk.
"This is an excellent passive, low maintenance investment with upside potential."