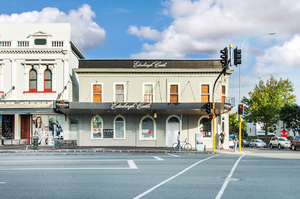 The two-level Edinburgh Castle hotel dating back to 1912 at the top of Symonds St in the Eden Terrace city fringe area is up for sale by auction next month.
"The building occupies a high exposure site on the busy arterial intersection of Symonds St with Newton Rd," says Dave Palmer, agent with Barfoot & Thompson Commercial who is marketing it for sale by auction at 10.30am on Wednesday, May 7 at the agency's Shortland St auction room, unless it sells beforehand.
The hotel, with a government valuation of $2.8 million, occupies a freehold 571sq m site zoned Business Mixed Use and generates annual rent of $130,000 plus GST and operating expenses.
"Originally designed and built as a bar and hotel, the building has a total floor area of about 874sq m with its construction consisting of cast iron support columns, lightweight timber framed perimeter and internal walls," Palmer says.
The main public bar access of the Edinburgh Castle is off Symonds St and leads out onto a rear open courtyard, while external access to upstairs accommodation is provided off Newton Rd.
The ground floor contains the main bar and public area, a sectioned-off gambling area, separate lounge and dining area, and commercial kitchen. Internal access is also available from the courtyard up to the accommodation level.
The first floor comprises 18 rooms, roof access, communal bathroom and kitchen facilities. One of these rooms is used for storage, while the remaining 17 rooms are rented out on a medium to long-term basis at $200 per week.
The hotel is leased to New Skyworld Bar and Hotel Limited on a three-year term commencing July 13, 2012 and has four rights of renewal of three years each taking the final expiry date through to July 12, 2027 if all rights are exercised. The rent review mechanism provides for market rates with a minimum increase to the Consumer Price Index.
Symonds St is a main city arterial providing access from the city fringe suburbs of Mt Eden, Epsom and Sandringham directly into the CBD, while Newton Rd is the main link between Newmarket across the Northwestern Motorway to Ponsonby and Grey Lynn.
Palmer says the CBD city fringe is going through a period of rapid transformation driven by an increase in the number of people living and working there requiring upgrades to public transport.
"The proposed new Auckland city rail link encompasses three new stations which will provide access to the underground system and one of these will be called the Newton Station, which will be about 100 metres away from 215 Symonds St," Palmer says.