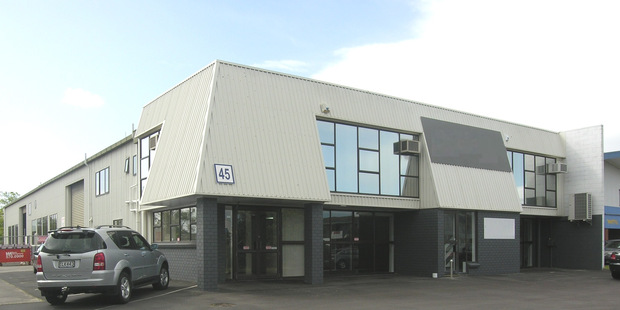 Strong demand for industrial buildings in East Tamaki is pushing values and rentals up and yields down, with investors prepared to pay above asking prices in some instances to secure premises.
John Bolton and Roy Rudolph, of Bayleys East Tamaki, recently sold a property at 45 Greenmount Drive for $1,740,000 that had an asking price of $1,695,000. Comprising an 1179sq m warehouse, showroom and office building on a 2260sq m site and leased to a flooring company for four years from December 2013, it sold at a 7.6 per cent yield.
"We had three buyers wanting this property so we generated competition between them by asking them to present their best offers which meant we were able to obtain a higher price than expected for our vendor," says Rudolph. He says East Tamaki investment properties which were typically selling at yields of between 8 per cent and 9 per cent last year are now mostly selling in a range of 7 per cent to 8 per cent. .
Bolton and Katie Wu sold two industrial units totalling 2229sq m on a prime corner site at 59 Sir William Avenue for $3,360,000 at a 6.7 per cent yield.
"The purchaser was prepared to pay a premium to secure a very well located, modern building with a high stud and multi roller door access and a good yard area" says Bolton.
"Demand is running way ahead of the available supply for these types of quality properties which is what is pushing yields down."
He has also recently sold four industrial units totalling 2131sq m on a 4057sq m site at 18 Lady Ruby Drive for $3,270,00 at a 7.2 per cent yield, fully leased, even though the second largest tenant was about to vacate one of the units.
And in another transaction that has just been concluded, Bolton and Shane Snjider from Bayleys Counties sold two warehouse and office units totalling 983sq m at 68 Greenmount Drive for $1.5 million at an 8 per cent yield. Both units are leased to a food manufacturer on a four-year lease until November 2015.
The latest Auckland industrial vacancy survey by Bayleys Research shows that East Tamaki's vacancy rate has continued to tighten over the past year from 5.86 per cent in early 2013 to a present level of 4.29 per cent. Bolton says tenants are having to compete with owner-occupiers in a number of instances for a small supply of good-quality space.
Bayleys East Tamaki office has also recently completed a number of substantial leases. Bolton has leased a 5663sq m refurbished warehouse and office building on an 8094sq m site in Parkwood Place for five years at $475,000 per annum net with a four year right of renewal.
A modern 2554sq m high stud warehouse plus 262sq m of office in Allens Rd has been leased by Jamsheed Sidhwa and Luke Carran for 12 years at an initial rental of $328,620 per annum, although there is a landlord underwrite for the first three years of the lease.