Prime coastal opportunity expected to attract attention from investors and developers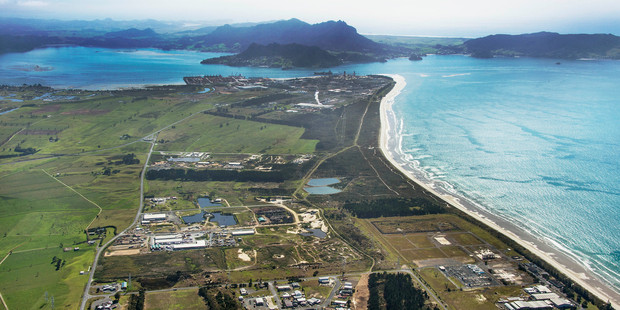 Seven parcels of land holdings totalling 166ha and formerly occupied by Marsden A and Marsden B power stations at Marsden Pt near Ruakaka, Northland, are being sold by Mighty River Power.
"We expect strong interest in this land, which is being made available to the market for potential industrial, commercial and residential development for the first time in over 50 years," says Tim Lichtenstein of Colliers International who is marketing the properties with Pete Peeters of NAI Harcourts Whangarei.
Colliers International's Auckland office and NAI Harcourts' Whangarei office have been jointly appointed to market the seven individual parcels of land via an expressions of interest campaign closing on Thursday, May 22.
The land, along the edge of the expansive Bream Bay, about 30km south of Whangarei, has been on the radar of developers and investors for several years.
"The value of these sites will begin to be realised to cater for an expansion of the shipping business in this area and to meet an increase in commercial and residential activity," Lichtenstein says.
"Both large and small investors and developers are expected to take an interest in this opportunity through a variety of development options.
"Northland Port's shipping volumes are increasing and it is considering further expansion, and the adjacent New Zealand Oil and Gas Refinery is undergoing significant expansion.
"Also in the pipeline is a substantial data centre development planned at the nearby proposed landing site of the Transpacific fibre optic communications cable. Hawaiki Cable is planning to build a 14,000km cable system between New Zealand, Australia, Hawaii and the US west coast. It hopes to have the cable operating within two years and this is expected to stimulate business investment in the area."
Lichtenstein says a 40ha beachfront site presents an outstanding development opportunity with only a narrow DoC reserve margin separating it from Ruakaka beach.
"This would make a stunning site for a residential development," he says.
"Ruakaka Beach looks very much the same today as it did in 1769 when Captain Cook sailed into the bay. It is already a popular and affordable coastal holiday destination with largely unspoilt pristine white sands and uninterrupted views to the east and is expected to attract growing numbers of visitors and local residents."
Lichtenstein says investors or developers interested in smaller sites can look at four of the parcels which are each under 10ha. Making up the balance are 74ha and 30ha inland parcels both currently used for grazing and further east than the actual former power station sites towards the port and oil refinery.
"All of the land is generally zoned 'Business 2' or 'Business 4' apart from a small area on the former power station site which is 'Open Space zoning'," Lichtenstein says.
"We will be seeking offers both nationally and from overseas, through a comprehensive marketing campaign, and expect interest from local rural landholders, astute land bankers as well as commercial and residential developers."
The area is served by the Ruakaka township near the southern border of the land with its many amenities including shops and restaurants.
The Waipu golf course is just a short drive away.
Peeters, who has been working in the area for over 20 years, says that the timing of the land sale is right and Mighty River Power is committed to a sale.
"Now is the time to get a foothold on land in the Marsden Pt area as land value appreciation looks likely to occur in the medium term. In addition to developers we are encouraging potential buyers with a more passive interest, like farmers or land bankers, to participate in this expressions of interest campaign before it closes next month."
Peeters says further development in the area will be stimulated by a growing population which increased by 21.5 per cent between 2006 and 2013. "Growth in the surrounding Bream Bay ward was 11 per cent which was strong compared to the overall static Northland region's population," he says.
The Marsden A and B power stations were based at the site before they were both removed in 2011/12. Marsden A was built in 1965 and stopped generating in 1994, although it continued to provide voltage support to the grid until 2010.
Marsden B was built in the late 1970s as an oil-fired power plant but it was never commissioned.
Mighty River Power took over the Marsden power station assets when the company was formed in 1999.