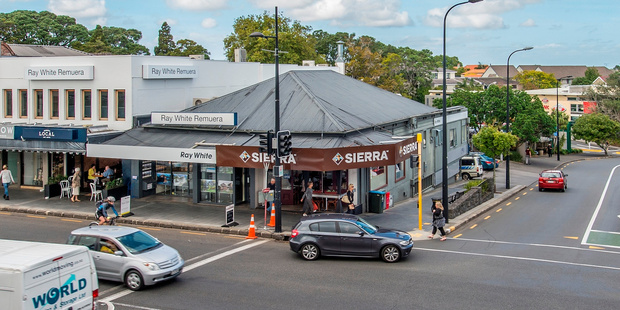 Two medium-sized retail premises with prime positions in upmarket Remuera and Newmarket shopping precincts are among a wide range of commercial and industrial properties which will go under the hammer next month as part of Bayleys Real Estate's second Greater Auckland portfolio for the year.
One property encompasses four tenancies on the corner of Remuera Rd and Clonbern Rd, next to a public car park and a New World supermarket; the other is the Eurostyle menswear store on Broadway, Newmarket, at the entrance to the Rialto Shopping Centre.
The property at 367-369 Remuera Rd is a 433sq m building on a net site area of 275sq m, producing net annual rental income of $227,649 plus GST from several tenants.
It is being marketed by Quinn Ngo, James Chan and Matt Lee of Bayleys Auckland and will be auctioned on May 14 unless it sells earlier.
"This freehold investment property is on a prime corner position in the heart of Remuera Village with big exposure to high volumes of passing vehicles and pedestrians," says Ngo.
The building has a ground floor facing Remuera Rd and a basement level reached from Remuera Rd and Clonbern Rd.
The largest tenant is Ray White Remuera which occupies 176sq m in conjunction with upstairs space in the neighbouring building. It is a franchisee of the Australasian residential real estate agency which was founded in 1902 and has 135 offices in New Zealand.
Occupying 61sq m on the prime corner position is a Sierra Cafe, part of a franchise established in 1992 which now operates in 35 locations around New Zealand. Both tenants have six-year leases expiring in April 2018 with no rights of renewal.
A further 106sq m accessed off Clonbern Rd was formerly occupied by eye-wear company OPSM and is available for sublease. But there is a six-year head lease on these premises to April 2018 to multinational retailer Luxottica, which has about 7000 stores worldwide and owns the OPSM chain of more than 400 stores in Australia and New Zealand.
The fourth occupant, Ruk Thai Massage, has been in operation since 2009 and has a three-year lease from August 2012 over 89sq m with one three-year right of renewal.
Ngo says the property is also next to the largest public car park in Remuera, a 215-space facility offering free two-hour parking, which adjoins the New World supermarket.
"This provides great accessibility and convenience for shoppers to the benefit of retailers in the immediate area which include three banks among a mixture of multinational and national tenants and local businesses.
"A large volume of cars turn off Remuera Rd into Clonbern Rd on their way to the car park and the New World supermarket which provides huge profile for 367-369 Remuera Rd."
Longer term, Ngo says, the property has redevelopment potential.
Investors looking for an add-value opportunity could possibly add another one or two floors to the building at the expiry of the current leases, subject to obtaining the necessary consents.
Also up for sale at Bayleys' Greater Auckland auction on May 14 is a 235sq m retail outlet at 153 Broadway occupied by Eurostyle Fashion Ltd which is being marketed by James Chan and Matt Lee.
Chan says the shop is in a premium position in one of the highest pedestrian count areas on the sought-after western side of Broadway, at the entrance to the Rialto shopping centre and close to the crossroads intersection with Khyber Pass.
"This prime location has worked really well for Eurostyle which has been in occupation since 2003 and has recently committed to a new eight-year lease on its premises."
The lease, which started in September 2013, comes with two yearly rent reviews to the consumer price index, and one eight-year right of renewal.
It is producing net annual rental income of $250,000.
Established in 2003, Eurostyle is a menswear retailer selling imported clothing and footwear from France, Spain, Italy and Germany. It stocks a range of corporate, smart-casual and sportswear brands such as Lacoste, Ben Sherman, Nautica, Giovane Gentile, Via Verona and Studio Italia.
Chan says the shop's modern fit-out showcases its international collections, and its floor-to-ceiling glazing makes the most of the premises' substantial exposure to Broadway.
He says the shop is in the heart of Newmarket's retail precinct, in a location particularly popular with "dedicated followers of fashion".
A pedestrian loop, enhanced by streetscape upgrades, takes in Teed St, home of multiple national and international fashion houses, and the new boutique-style Osborne St, and goes through the Rialto Centre back to Broadway.
"The success of Newmarket as a top-end retail destination is partly due to the large working population of about 20,000 in the immediate area and the affluence of surrounding suburbs such as Remuera, Parnell and Epsom," says Chan.
"However, it draws shoppers from all over Auckland as well as visitors from outside the region. This means it also attracts a wide range of national and international retailers and the highest volume of pedestrians outside the CBD."