Workers opting for new-style boarding houses near suburban transport hubs and entertainment.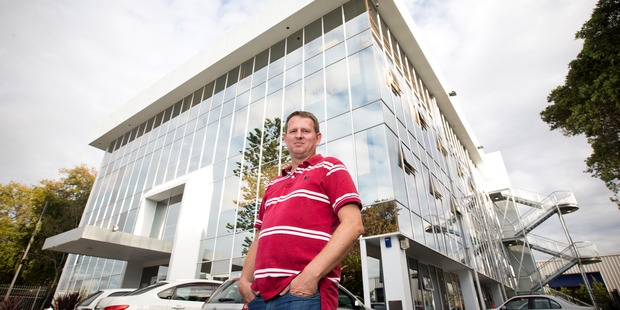 The hidden cost and hassle of going flatting has boosted business for a chain of new-style boarding houses on former suburban office sites.
A furnished room, with its own bathroom and fridge, from $215 a week - in the revitalised New Lynn town centre - is being touted as a worker's alternative to sharing a rented flat for $150 plus expenses or $400 for a 35sq m city apartment.
Sixty-five rooms and communal kitchen, laundry and lounge have been created within the refurbished 1980s shell of a glass-wall office building across the road from the $380 million public transport interchange and a nearly finished 10-storey apartment block.
The million-dollar redevelopment gives operator Scotty's Accommodation 201 rooms, counting three other properties in Onehunga, Panmure and last year's addition, Birkenhead.
Scotty's group director Brett Cranston said three were in converted office buildings in areas that had after-work options for eating, shopping, recreation and also were near public transport.
"The market we are competing with is flatting," he said. "Someone who would not consider themselves a boarding house tenant could see it makes better sense than going flatting because there are clear advantages."
These included security, with surveillance cameras, individual swipe card access and off-street parking.
A tenant need bring only their television set and, unlike when renting an apartment, they are not asked to pay four weeks' bond plus two weeks rent in advance. Instead they put up a week's bond and a week's rent.
"Most small apartments, which are price-comparative to some of our bigger rooms, still have your own power and water costs, which you are responsible for.
"Here it is one flat price, including power, water and Sky TV. The only added extra is for wireless internet, which you pay direct to the provider. There is no charge for car parking."
Mr Cranston said the system was easier than renting a flat.
"You can move in quickly - tomorrow - and move out quickly, though we ask for a minimum of a month.
"So if you are working on the other side of Auckland in a month, you don't care because you only need 48 hours' verbal notice."
In return, Scotty's asks for references from a previous landlord, that renters be working or studying and over 18, and if 48 hours of verbal notice is given, there is a penalty of two days' rent.
Mr Cranston said the average stay is six months.
Humble but homely abode suits
Being a flatmate is not for everybody, says Olena Poltavchenko, a Russian who moved in to Scotty's New Lynn after the death of her grandfather, her only New Zealand family, a month ago.
"I do not like flatting because sometimes you are not on the same page, with the cleanliness and personal space.
It's nice to have a humble abode that you can call home, with my own fridge and bathroom and, even though I don't have a window in my room, it's ventilated, very fresh and private and my car is secure."
Security was an appealing feature, because Poltavchenko worked nights as a hostess at a city restaurant.
"I go to the gym and Lynn Mall and the super market are only 10 minutes' walk away and the train fare to the city is $4.60."
"Living here is made very easy with the one set price agreement for rent and power and water included. You are not going to get ripped off - the price is what you are promised."