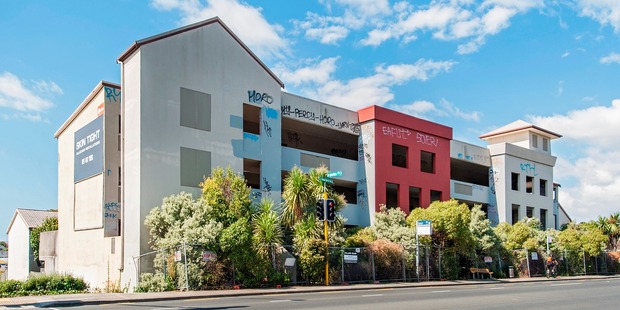 Pepperwood Mews, a contentious West Auckland "leaky building" apartment complex at 4045 Great North Rd, Kelston, is now being marketed as a potential development opportunity with its real value lying in its high-profile road frontage site.
"Built in 2004-2005, this art-deco styled development has been mired in controversy for years," says David Palmer of Barfoot & Thompson Commercial who, with colleague Greg Clarke, is marketing the property for tender closing on April 30.
"Due to its strategic location with a wide frontage to a busy arterial route, it is a valuable site with both commercial and residential options and it must be sold," Palmer says.
"This three-level building was once hailed as a model for the future but it now stands derelict and abandoned as an ongoing reminder of processes gone wrong," he says. "Originally planned and built as social housing for the over-50s, the 32 residential units with long-term tenancies to Housing New Zealand were all sold to investors for what should have been a low risk, passive investment.
"Early on, these apartments were identified as one of a great number of properties with weather tightness issues, and if that wasn't bad enough, the entire complex was vacated more than four years ago due to structural concerns with part of the property.
"Now, after many years of argument, anguish, financial hardship and litigation, the owners of the units are taking the final step of moving on with the entire development being offered for sale."
The Kelston complex was leased to Housing NZ and was the subject of a highly publicised owners' protest campaign following its abandonment. Owners bought the complex for a combined total of about $8 million and are understood to have spent more than $300,000 on reports and expert opinions in relation to its weather-tightness issues and structural defects. Five reports were prepared, two by Housing NZ and one by the Weathertight Homes Resolution Service.
In the end, Housing NZ stepped away from any involvement in Pepperwood Mews saying it did not accept liability for the structural or weathertightness problems because the department "did not own the building, or own the land, or design or construct the building. The department's involvement was merely the leasing of 32 units in the complex from private owners".
Palmer says 4045 Great North Rd has clearly represented a very difficult and expensive experience for all involved. "However, it is worth noting that all the apartments were sold and occupied, positively demonstrating that the location works. Regardless of what the purchaser of this property chooses to do with it, the popularity of the site is already proven," Palmer says.
"Further enhancing the attraction of this property's location is the fact that hundreds of millions of dollars have been spent on infrastructure just down the road in New Lynn with a view to transforming the area into a vibrant metropolitan centre. Schools, sports facilities, shops and a supermarket are all within walking distance and there are regular public transport services at the door."
Clarke says the building was constructed in two sections. The front structure is three-level buildings with 17 units and basement parking below. At the rear is a two-level block with a total of 15 units. All the units are a one-bathroom, two-bedroom design with similar layout. The upper units have balconies while the lower level opens onto separate lawn and garden areas.
"Can it be fixed?" is the most common question asked about the building, Clarke says. "There have been suggestions that the rear block doesn't suffer from some of the issues affecting the bigger front structure, but no one is prepared to give a definitive answer.
"If the rear block could be saved, this would be a very attractive proposition for an experienced developer, and buyers are encouraged to seek their own expert advice with regard to this."
Clark says regardless of the existing title structure, on demolition of the buildings this site could be converted to fee simple. "Therefore, we consider we are realistically selling 2880sq m of valuable road frontage freehold land," he says. "Whatever the purchaser then chooses to do with it will be entirely up to them and it could include mixed use commercial and residential development.
While this may be the closing of the door on an unfortunate experience for the original owners, its sale signals the start of a new era for the site."