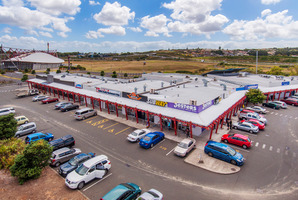 A substantially renovated building in Ellerslie which is home to two restaurants along with retail outlets in West Auckland and Manukau are among a range of retail premises that will go under the hammer on April 9 as part of Bayleys' Total Property commercial and industrial portfolio auction.
The eateries, at 120 Main Highway in Ellerslie Village, are located in a 700sq m, single level building on a high profile 887 sq m site on the corner with Ladies Mile.
The property, producing net annual rental income of close to $200,000 plus GST, is being marketed by Damian Stephen and Michael Block of Bayleys North Shore Commercial in conjunction with Tony Chaudhary, Bayleys Manukau.
The property was previously a mixed-use site housing a petrol station, workshop and Raviz Indian restaurant, which is still there.
Block says the property underwent an innovative reconfiguration and redevelopment last year.
"This resulted in the former workshop, by then only used for storage, being extensively refurbished and fitted out to a high standard to accommodate an additional restaurant tenant, Mexico Food and Liquor. It is also using the former service station forecourt area, which is sheltered by an overhead canopy, as an outdoor courtyard.."
The Mexican restaurant occupies 251sq m of indoor space plus the 123sq m courtyard on an eight year lease. The restaurant group, with other outlets at Britomart, Ponsonby and Takapuna, offers a range of Mexican food and beverages including 70 tequilas as well as an extensive selection of beers and cocktails. The company has also leased a further 88 sq m of adjoining space at 120 Main Highway, on the same terms, in which it intends to open a bar called Britomart.
The Raviz Group of Indian restaurants occupies 172 sq m plus a 64 sq m courtyard on a six-year lease from mid July 2013. Established in 2000, it has seven restaurants around Auckland offering authentic Indian cuisine, and operates the Bollywood nightclub in Viaduct Harbour.
Stephen says the leases include rent reviews at regular intervals to the consumer price index as well as to market which offer investors good income growth potential. "The property's premium corner position in a location that benefits from a substantial commercial and residential catchment also increases its appeal."
Two West Auckland retail properties being marketed by Alan Haydock and Damien Bullick of Bayleys Auckland are also part of the April 9 Total Property auction.
A 412 sq m Dick Smith store at 3045 Great North Rd, New Lynn, in a high-profile retail strip directly opposite the LynnMall shopping centre, offers investors the combination of a strong location and a leading Australasian retail brand, says Haydock. "The massive main road exposure this address provides is obviously working for Dick Smith because they have been in occupation since 2001 and have recently renewed their lease for four years."
The property generates $134,405 in net rent annually plus GST and is leased to DSE (NZ) until December 2017. Dick Smith has 359 stores in Australasia, 61 of which are in New Zealand, and the company reported revenue in excess of A$1.3 billion in its last financial year.
"Adding to the underlying value of this investment is the transformation and revitalisation of New Lynn, which has been identified as one of the key metropolitan centres which will service Auckland's rapid growth in the years ahead," says Haydock.
Bullick and Haydock are also marketing a 521 sq m retail unit housing a large Mad Butcher store at 2-10 Triangle Rd, Massey. The franchisee has been in occupation for close to eight years and exercised the first of two five-year rights of renewal in May 2011. The property is producing net annual rental income of $96,080 plus GST. Founded by Sir Peter Leitch in 1971, the Mad Butcher chain has 39 stores around the country.
Bullick says the Massey Mad Butcher store is part of a modern retail complex on a high-profile corner position opposite a busy roundabout and it services a growing West Auckland residential catchment. Further commercial and residential expansion is imminent with the advancement of the nearby Westgate development. "This is an excellent opportunity to secure a low-maintenance, straightforward retail investment where you can sit back and enjoy the cash flow," Bullick says.
Further south, two properties in the Pacific Square Retail Plaza opposite the Vodafone Pacific Events Centre at 792 Great South Rd, Manukau are also being auctioned.. The larger of the two is a 354 sq m Buffet King Family Restaurant and Bar which is earning net annual rental income of $90,000 on a seven year lease from 2010 with two six-year rights of renewal. It is being marketed by Tony Chaudhary and Janak Darji, Bayleys Manukau.
The Pacific Square retail complex was developed by Augusta Group in the mid-2000s to coincide with the development of the Manukau Events Centre and comprises four free standing buildings on a 1.049 ha site with parking for up to 185 cars close to the retail outlets and in the basement of one of the buildings. It is accessed off Great South Rd, one of Manukau's major arterials, and has exposure to State Highway 1.
"Pacific Square benefits from its strong location on one of Manukau's busiest roads and also from being close to one of the region's largest events centres," says Chaudhary.
The centre is a major focal point for the Manukau region and hosts a wide range of cultural events, concerts, seminars, conferences and weddings in addition to providing an indoor sports stadium.
Chaudhary has joined forces with Sarah Prebble and James Valintine, Bayleys Auckland in the marketing of a smaller 86 sq m unit at Pacific Square. Prebble says it has a well established tenant, Vista Cafe, that has been in occupation since the centre's opening in 2006. The lease is currently producing net income of $47,376 per annum and has two-yearly rent reviews to CPI with the next adjustment due in May.
"The property has a prominent position within the centre and is surrounded by a mix of high profile national tenants including Subway, Lone Star Cafe and Bar, Super Liquor and Dominos Pizza as well as local retailers like themselves," she says. "This is an excellent opportunity for smaller investors to secure a well presented property situated within a busy retail complex."
Also being auctioned in Manukau is the 500 sq m Unit L in a substantial, predominantly bulk retail complex at 57 Cavendish Drive that is producing net annual rental income of $77,900. Marketed by Geoff Wyatt of Bayleys Manukau and Peter Migounoff of Bayleys Counties, the property was previously two separate tenancies but these were combined for the current tenant, Music Works, which bought the Music Mania business.
Music Mania had been trading from the site for over 20 years before Music Works took over its lease in 2012. Music Works exercised the second of three two-year rights of renewal last year and expanded by leasing the neighbouring tenancy to fully occupy all of Unit L.
"Music Works was formed in 2001 with the merger of two of the New Zealand's oldest and most respected musical wholesale companies," says Wyatt. "There are now 32 stores throughout New Zealand, five of which are company owned, and the Manukau branch is one of these.
"Music Works represents many of the world's premier musical brands including Yamaha, the world's largest musical instrument manufacturer."