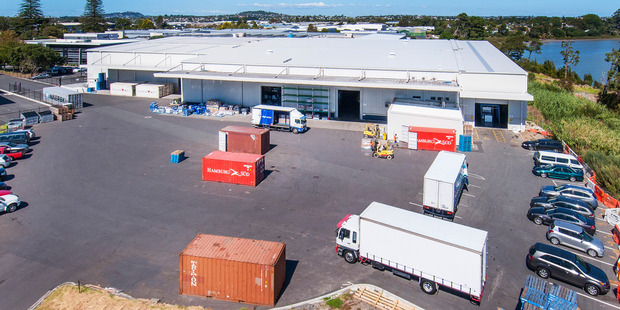 Barfoot & Thompson Commercial has published its first Insite portfolio magazine, detailing a variety of commercial, industrial and retail properties for sale.
The agency's commercial manager, John Urlich, says the portfolio lists 39 Auckland and Northland properties. Of these, 27 are sale opportunities, eight will be auctioned, three are for sale by tender and two will be sold by deadline private treaty.
In the foreword to the magazine, Urlich says business owners and property investors are looking forward to continued improvement in the economy that is consistent, predictable and yet restrained.
"The recent interest rate increase by our Reserve Bank has been well signalled and there is the opportunity now more than ever to invest in commercial property with an understanding of the likely future environment.
"All in all, it is a superb time to be taking further commercial property positions and predicting this reality, we have seen the market respond."
He attributes the increased activity to the growing economy, a strengthening market and historically low levels of development over the past few years.
Included among the industrial properties in the portfolio, commercial and industrial broker Murray Tomlinson is offering for sale by tender a large distribution warehouse and office complex at 478 Rosebank Rd on the Rosebank Peninsula in Avondale. Tenders close with Barfoot & Thompson Commercial at 4 pm on Wednesday April 30.
Buildings on the 12,019sq m freehold site are an original Cadbury New Zealand facility of about 4300sq m and a newer warehouse area of about 1400sq m. The net lettable warehouse area is 5833sq m with original office space of 138sq m and new office of 97sq m.
The complex has a 1400sq m yard and a a 600sq m canopy on the northern side of the building.
The site is zoned Business 5 under the Auckland City District Plan and Light Industry under the proposed Auckland Unitary Plan.
Vernon Carriers has a 12-year lease paying $703,143.92 a year plus GST, starting on March 1 last year, plus two six-year rights of renewal.
Tomlinson says the Vernon Carriers investment property is on the former Cadbury West Auckland production site and occupies a harbour frontage site on the southern side of Rosebank Rd.
"The greater portion of the site comprised a manufacturing facility, which no longer met Cadbury's needs so around 2010 it sold the entire property of some 4.7ha to the 494 Rosebank Road Ltd Partnership.
"Vernon Carriers, with Cadbury, which had a requirement for a new head office, formed the basis of the total site redevelopment.
"The site was further split with the securing of USL Medical as tenants in the existing but fully renovated Cadbury offices with the addition of 6000sq m of distribution warehousing.
"While the Cadbury head office and USL Medical buildings are not included in the sale, the presence of such high-profile adjoining companies illustrates the prime business park 'feel' that dominates the location in which the 478 Rosebank Rd property is situated."
Tomlinson says access to the Vernon Carriers, Cadbury and USL Medical buildings is via an entry shared in common and a fourth site is under a sale offer.
"This industrial investment has come on to the market at a time where there is a dearth of quality long term leased product available and it would sit well in a larger private trust or in a syndicate."
He says that in normal traffic, the central city is less than 15 minutes from Rosebank Rd, which is a major thoroughfare with public transport services.
"The Avondale residential precinct is characterised by low to medium-income earning households which provide a good source of skilled and unskilled labour."
Other properties being sold by Barfoot & Thompson Commercial include:
• 2-2A Winston Place, Henderson - a 265sq m industrial unit with vacant possession, being marketed by Greg Clarke by auction on May 1.
"Increasing costs of construction are reducing the numbers of smaller industrial units being built, which makes this 265sq m unit an attractive proposition," Clarke says.
The unit is off Central Park Drive. It has been repainted internally and new carpets laid in the two office levels. The high stud warehouse or factory area has easy truck access through a large roller door, and the site has four car parks.
• 4-6 Drury St, New Lynn - a 946sq m investment industrial property in a short cul-de-sac off Great North Rd that will also be auctioned on May 1 through Clarke unless it sells earlier.
The main building has a 5m stud, and comprises a ground floor factory area of 710sq m, a mezzanine of 67sq m and a first floor office area of 89sq m. A 60sq m administration building contains offices and storage area.
"The 1952sq m freehold site provides room for yard space or it could be used for additional building space in the future," Clarke says. "This property is leased to a long established business at a net annual rental of $75,000 and with elderly vendors determined to sell should appeal to a wide range of buyers."
•1 Veronica St, New Lynn - occupying a road-front 1042sq m freehold site, this 730sq m older building was the long-time home of an Origin Interiors store and could benefit from refurbishment.
Clarke is offering the property for sale with vacant possession for $1,050,000.
"New Lynn is centred on the LynnMall shopping centre, so properties bordering the mall are really considered prime," Clarke says.
"It has served its vendors well since they purchased it in 1991 and, being vacant, it could suit an owner occupier or an investor with an eye to the future."
• 35 Oranga Ave, Onehunga - an older retail and residential building zoned Business One occupying a freehold site of 276sq m with access off Otea Rd.
The two-level building is offered for sale by Warwick Lewis and Sue de Jong with vacant possession, without vendor warranties and in "as is" condition. It has two shop areas and a two-bedroom flat with parking for six cars. "The building and its lean-to garage are in very poor condition but the property looks to have heaps of potential for residential or retail purchasers," Lewis says.