Retail area will help fill a gap for the rising number of central city apartment residents, writes Colin Taylor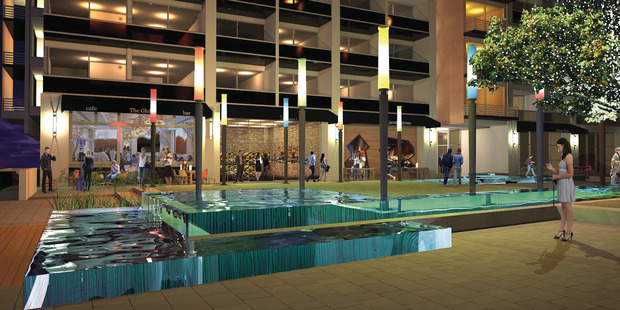 With Stage 1 of the SugarTree retail and residential development at the top of Nelson St in central Auckland set for completion at the end of the year, about 4000sq m of prime retail units have now been put on the market.
JLL's national director of retail sales and leasing, Chris Beasleigh, who is marketing the units, says more than 90 per cent of SugarTree's Stage 1 apartments have sold and there has been a strong interest from high profile retail tenants.
"A comprehensive retail plan has been developed to obtain the right retail tenancy mix and commercial environment for both tenants and apartment dwellers," Beasleigh says.
SugarTree director Darren Brown says the developers identified a need for a quality retail offering in the area which is in the Victoria Quarter.
"SugarTree is a high end apartment and retail development encompassing around 650 apartments across three separate buildings," he says.
"With the 3000 to 4000 other apartments in this part of the CBD, that is a large number of residents who have no real convenience retail at their doorstep.
"There is a shortage of comprehensive retail offerings in the Nelson St and Union St triangle, and we believe the proposed SugarTree development will invigorate the retail landscape in the area.
"SugarTree's retail offering has been designed to deliver a successful retail precinct that will significantly benefit the residents and office workers in the vicinity.
"Quality is also very important to us. We are committed to dealing with high quality retailers and have turned away a number of lower quality options for SugarTree to ensure we deliver the right outcome for residents and our approved retailers."
Brown says residential and retail concepts are popular overseas but SugarTree is the first of its kind in Auckland.
Beasleigh says most apartment projects in central Auckland are "somewhat one dimensional" property developments.
"The SugarTree development, by including retail as a key part of the mix, is addressing the lack of integrated uses so often found in other Auckland apartment developments."
To ensure a quality retail environment, SugarTree engaged a specialist retail consultancy, Foreman and Company, to research the needs of local residents and design the appropriate retail mix.
As a result, the retail design for Stage 1 incorporates a wide mix of tenants including cafes, restaurants, and other food and beverage, health and beauty, convenience retail, liquor and wine shops.
In Stages 2 and 3, SugarTree will get a mini-supermarket, a medical centre and a gym and health spa that will be set among green outdoor spaces with trees, gardens and water features.