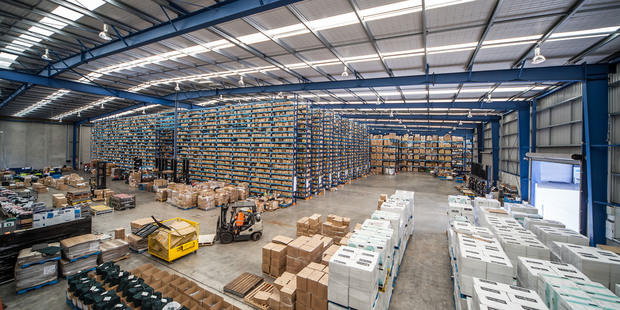 A big modern warehouse and office complex within the Airpark 2 industrial estate is being promoted as probably the only A grade facility available for sale of its size and quality in the Auckland airport precinct.
The freehold property at 129 Pavilion Drive is being sold through Claus Brewer, Scott Soroka and Bruce Catley of CBRE by way of deadline private treaty closing on May 9, unless it sells before that date.
"Freehold properties of this type and location are held in only a few hands and are hardly ever sold," Brewer says. "Opportunities to own facilities of this size and quality in this location are extremely scarce, particularly as leasehold occupation is the norm at Auckland Airport."
Occupying two Business 5 zoned titles totalling 18,407sq m, the 10,998sq m warehouse and office building was constructed in two phases between 2006 and 2007 by Mt Wellington-based industrial building specialists Savory Construction.
The 9484sq m warehouse has a stud height of around 9.5m to the knee, rising to about 10.6m at the apex.
Soroka says the land was acquired and the building designed for maximum operational efficiency. "It was purpose-built from the ground up for a global logistics company and is a full drive-through facility with superb truck access. It has an excellent yard and large 1279sq m canopies orientated away from prevailing winds along with roller doors along the northwestern side of the warehouse. Soroka says the complex has not served as a head office so it has a low ground floor office content of 115sq m and similar-sized office space on the first floor.
"However, as the building was originally consented to allow for a head office, it does have the potential to add space for this purpose."
Under the proposed Auckland Unitary Plan, the property is zoned "light industrial", which includes light manufacturing, production, logistics, storage, transport and distribution activities.
Brewer says the property is a chance to acquire and occupy a quality building in a pre-eminent industrial precinct.
He says potential occupiers would have to endure a lengthy building period to obtain such a high standard of property.
"It will therefore appeal to a range of owner occupiers and investors who will have the flexibility to invest, occupy or lease it out. Not only is it an excellent high-stud facility with drive-through access to Pavilion Drive and Montgomerie Rd, but it is also on two titles with dual street frontages.
"This gives an investor or owner occupier an option to create two separate facilities on the site."
Soroka says that the building's impending vacancy adds to its appeal. "It is available with vacant possession no later than the end of July.
"There is nothing of this size ready and available now on the market and any other spec-built facilities of a large nature this year will only be available for lease."
Catley says this combination of factors, plus still low interest rates, has driven "strong early interest" in the property from a number of investors and large occupiers.
"The cost of funding a purchase of this sort is still favourable versus rental cost," he says.
"With projected rate increases it would still be more affordable for a well capitalised occupier to own, rather than lease, the equivalent building. This is especially relevant when factoring in the diminishing supply of freehold industrial land, the quality of construction, cost, time and risk of a new build. These factors would justify the purchase on a replacement cost basis alone."
Catley says CBRE has transacted more than 200,000sq m in the last 12 months and is confident that 129 Pavilion Drive is "right up there with the best to come to market".
"Airpark 2 is a relatively new industrial estate developed in the mid-2000s. It is a modern and upmarket industrial estate containing a number of high-quality industrial buildings.
"The precinct is dominated by large-scale, predominantly industrial premises with attached office components."
The complex is 1km from Auckland International Airport and close to SH20. "It is a 30-minute drive from the Auckland CBD and is easily accessed from all directions via major arterial routes. For these reasons Airpark 2 is a popular industrial home for many of Australasia's largest logistics and customs companies."
Catley says the importance of the airport location will increase with the completion of the $1.4 billion Waterview Connection motorway project linking SH20 with SH16.
"Improved links between SH1, SH20, SH16 and the Upper Harbour link mean the airport is fast becoming Auckland's focal point for logistics and labour. It has also grown in leaps and bounds in relation to the amenities offered, which has enhanced the airport as a place to do business.
"Low levels of vacancy in A grade facilities that are comparable to 129 Pavilion Drive, plus the supply due to come on stream in the balance of 2014, give us confidence there is going to be strong demand for properties of this quality in this location," Catley says.