45 DOLPHIN PL, TUTUKAKA
SIZE:
Land 4846sq m, house 220sq m.
PRICE INDICATION:
CV $900,000.
INSPECT:
Sun 1pm-2pm. Auction March 26.
SCHOOL ZONES:
Ngunguru School, Huanui College.
CONTACT:
Grant Alexander, ph 021 286 8600.
You don't look at the view from the house at 45 Dolphin Place, Tutukaka - you're in the view. And that's what Karolle Gjaltema and Chris Farrelly are going to miss about the waterfront home they've owned for the past 10 years.
"We were living in Ngunguru just down the road and we'd always loved this area," Karolle says. "We drove up, looked around, saw the house and fell in love with the view. As many of the locals told us, there are some fantastic views around here but this is one of the best."
The house, a spacious cedar-clad home with expansive decks, overlooks the sea out to the Poor Knights Islands and the Three Gables. Directly below are little beaches and rocky outcrops, all fringed by lush native bush. It's tucked down a drive at the end of a no-exit street, virtually invisible from the road. And because all the surrounding homes have large sections, the feeling of tranquillity and seclusion is complete.
Built by a builder as his own home, Chris and Karolle are only the third owners so it has retained its quality original features and integrity. The couple who owned it before them painted the sarked walls and pitched ceilings white, giving it a beach house feel.
Karolle describes it as "the Cape Cod look", and appreciates that the paint job has lightened the rooms and added to the feeling of space. A green tiled splashback in the kitchen ties it into the many green tones of the foliage outside, which is also picked up in artworks in the living area.
Karolle and Chris didn't have much to do to the house when they moved in - the living area and two bedrooms upstairs, all with sea views, were lovely just as they were. But the large, undeveloped basement area downstairs presented an opportunity.
"It had what I referred to as a fireman's pole staircase to it, and I actually fell down it one day," Karolle recalls. "So I designed a better staircase and we developed the area into a private guest suite with its own bathroom and kitchen, and separate access."
Guests are well catered for with a spa pool and the whole renovation was achieved without encroaching on the double garage.
For most of the time they've owned the property Karolle and Chris have lived there full-time, enjoying everything the area has to offer.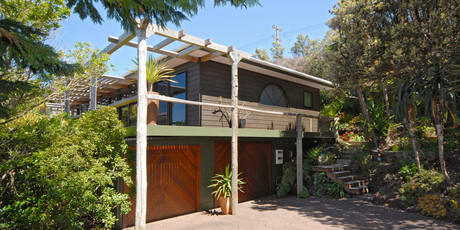 "Even though we have that 'away from everything' feeling, we're actually only 30 minutes from Whangarei so it's easy to go to the city. And it's such a beautiful drive, you never mind doing it."
And the house is just five minutes from Tutukaka Village. "If you feel like a bit of company you can always go down there for a coffee, and because of the fishing and diving activities there's always something happening."
In recent times they've used the place only as a holiday home, but leaving will still be difficult.
"Our Neighbourhood Watch meetings were always just an excuse to get together for a barbecue. I'll miss that."