Growing finance and insurance sectors heating up CBD market, report finds.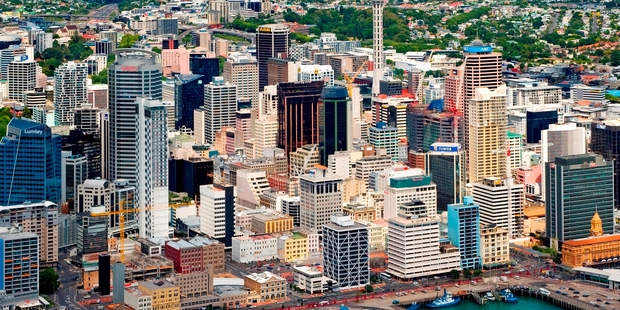 Banking, insurance and professional services are major employment groups that dominate growth in Auckland and they are putting upward pressure on commercial property rents as they expand into an already tight office market, says Colliers International's latest research report.
Chris Dibble, national research manager for Colliers, says that a rise in any office market's fortune is based on changes in employment which has been increasing in the Auckland central business district since 2010.
"Central Auckland's largest employment groups are in the finance, insurance, professional (scientific and technical), administrative and support sectors," Dibble says. "The importance of these groups has grown over the last decade, rising to 54 per cent of overall employment in 2013 from 46 per cent in 2002."
Auckland's CBD employs about 78,000 office workers and about 42,500 work in the banking, insurance and professional services sectors, up from about 28,000 in 2002. The remainder work in a mix of industries, including education, government, media and marketing.
"Big shifts in employment conditions in the largest employment sectors in the CBD lead to big shifts in the uptake of office space and rise in office development, with the growth of the finance and insurance sector an increasingly important group over time.
"The growing reliance on a few key industries in the office sector over the last decade will underpin the office sector's higher activity levels in 2014 and beyond as demand for high quality office space increases," Dibble says.
While job cuts were heavy in Auckland's CBD during the global financial crisis, Dibble says the finance and insurance sector losses were minimal over the subsequent two years. The sectors lost just 2 per cent of employees in 2009 and 2010 which helped buoy the office market. More recently, the sectors have grown as a proportion of total employment to 19 per cent in 2013 compared to 16 per cent in 2008.
In the office market this can be seen in four major office developments and refurbishments in the CBD since 2009 which now house BNZ, Westpac, ASB and ANZ banks.
The forecasts point to more employment growth in these industries over the next three years in Auckland averaging around 2 per cent annually. While space planning for existing businesses will accommodate some of the expected rise in employees, the requirement for more space is fast approaching.
"Given the predominance of the finance and insurance sectors to occupy prime buildings, which currently have a vacancy rate nearly half the long-term average, accommodating them will be harder than ever. The pressure on supply will lift rents and we are already seeing signs of this," Dibble says.
The percentage change in prime rentals was 2.1 per cent in 2013 with a forecast 4.8 per cent increase through 2014. Vacancies in the CBD fell to 4.7 per cent in December 2013, from 7.5 per cent in December the previous year and they are still decreasing.
Dibble says some potential relief for tenants on the horizon is the addition of office space by 2017 through the speculative building projects by Goodman Group which is planning new A-grade space in Wynyard Quarter and by Mansons TCLM which is developing space on Victoria St. Precinct Properties is also planning a Downtown Shopping Centre office development in 2019 potentially adding 4 per cent to the total CBD lettable area.
"Record high business confidence and better employment prospects are a sweet spot for landlords in the office sector. Until these new projects come on line, we will be seeing a continued downward pressure on vacancies and upward pressure on rents for office space."