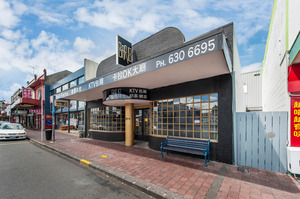 A building that has been associated with one family for nearly 40 years and which reflects the changing face of Mt Eden's Dominion Rd will be auctioned this month.
The 430.5sq m split level premises on 539sq m of land at 654 Dominion Rd is in Bayleys' first Total Property portfolio for the year which was released yesterday.
The building is being marketed by Alan Haydock and Damien Bullick of Bayleys Auckland and will go under the hammer in Bayleys' Auckland Central auction room on Wednesday, March 26 unless it sells earlier.
The property is made up of two parts - the original single-level retail frontage on to Dominion Rd and a modern two-level building, developed on the rear section of the site in the early 1990s.
In 1974 Alan and Jean Watkins bought a business selling stereos, televisions and appliances at 654 Dominion Rd and subsequently acquired the property to establish a new business, Videon, which offered mainstream, foreign and arthouse videos.
"Videon was the place to obtain videos in Auckland.
"It had an excellent reputation around New Zealand and was even known internationally," says son Philip Watkins. "Videon developed into a hugely successful business."
In 1993, a villa at the back of the property was demolished and the two-level building was added by Haydn and Rollett Construction.
"This extension was designed by award-winning Auckland architect Pip Cheshire, with much thought to future uses and potential," says Watkins.
"The front of the building was also rebuilt to look like a 1930s theatre in keeping with the arthouse nature of the business."
The family sold Videon in the mid 2000s and the building was converted into a hospitality complex aimed at the local Chinese community with a pool hall, a bar and a restaurant on the ground level and karaoke rooms in the mezzanine area.
"This adaptation fitted in with the changing face of Dominion Rd which has become Auckland's de facto China Town, and is now a thriving and eclectic mix of ethnic restaurants and retail outlets," says Haydock.
He says the property, which is being sold with vacant possession, offers a variety of options for a future owner.
"Owner-occupiers could take advantage of the modern hospitality fitout, including a bar and kitchen, or tailor the versatile space to suit their requirements. Or an investor could look to find a tenant, or consider added value and refurbishment options, including subdividing the property into smaller tenancies to maximise income.
"There could also be potential for a live-and-work configuration subject to obtaining the necessary council consents. An increasing number of properties along Dominion Rd and Mt Eden Rd now contain a mix of business and residential tenancies."
Bullick says the 98sq m mezzanine level, now configured as individual karaoke rooms and offices, could be reconfigured to add further office space or residential accommodation.
Given its high stud, the newer building could be converted to warehousing with a cart dock established to provide goods access from the rear of the property.
"It's a very flexible property that would suit a wide range of users in a high profile city fringe location with handy access to public transport, and a short distance from Mount Eden Village and Auckland's central business district," says Bullick.
The surrounding properties on Dominion Rd largely comprise single and two-level retail properties servicing the surrounding residential population.