For first home buyers, the LVR and a heated property market have made the search for an affordable suburb difficult. But they shouldn't despair. We've found the next generation of Ponsonbys and Grey Lynns. And guess what? Transport's the key.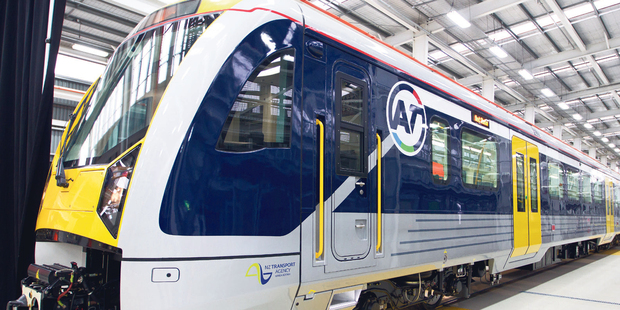 Ponsonby and Grey Lynn are beyond the reach of many first home buyers but there are plenty of affordable suburbs further afield. What's made these outer suburbs - previously dismissed as either too far from the central city or too suburban to consider - more attractive propositions are improved bus, rail and motorway links.
Not everyone needs to travel into the CBD. In some cases new motorways will make it easier to live in, say, Swanson and work in South Auckland. The bus-only lanes on the Northern Motorway have made living somewhere such as Albany or Silverdale a realistic choice. Buses take less than half an hour to reach downtown, stopping infrequently and dropping passengers at the bottom of Queen St.
The upgrade of suburban rail and bus hubs such as Panmure, and the imminent introduction of new electric trains, further raises the appeal of nearby suburbs. And Queen St is no longer the preserve of a decent cup of coffee - hundreds of cafes have opened in the suburbs, helping to rejuvenate many suburban shopping centres.
It is probably too late for many first-home buyers to get into trendy suburbs such as Kingsland, where QV's E-Valuer average price at the end of January was $765,150. North Shore suburbs such as Takapuna and Devonport are way out of reach, with average prices of just over $1 million and $1.3 million respectively. Even Northcote values have increased by more than 30 per cent since the last peak in property prices, in 2007, with the average price at the end of January $715,000.
In the eastern suburbs, Remuera has long been out of reach for most - the average price is almost $1.33 million - and in neighbouring Meadowbank the average price is $856,600, more than 40 per cent higher than in 2007. Even buying in suburbs such as Mt Wellington (up in value by 33.7 per cent since the peak to $516,000), Onehunga (up 34.3 per cent to $620,000) and Pt England (up 42.3 per cent to $573,950) have become a stretch too far.
In west Auckland, Titirangi was once considered within the reach of first-home buyers, but the average value there now is $656,850, 26.4 per cent higher than in 2007. Just to consider a property in Titirangi, buyers need a minimum deposit of about $132,000, and the income to support a $550,000 mortgage. Based on a 25-year term, and a historically low interest rate of 5.5 per cent, that means weekly repayments of $760.
Suburbs such as Te Atatu and the Te Atatu Peninsula have also soared in value. The peninsula has an estimated average E-Value of $633,450, an increase of more than 33 per cent in the last two years.
In South Auckland, suburbs such as Hill Park in Manurewa and Goodwood Heights have increased significantly. Goodwood Heights's E-Value rose by 24.4 per cent in the last two years, with the average price at the end of January $619,000.
Economist Rodney Dickens says the push to establish dozens of Special Housing Areas has the potential to provide some more affordable housing in Auckland, but not in the inner suburbs.
The Government and Auckland's council are speeding up the planning and consent process in a bid to meet the huge demand for affordable housing. Work has started on several major projects, with the aim of delivering at least 5000 new homes a year.
Infographic: Click here to view latest property data from CoreLogic.
Although Dickens has doubts as to whether this will reduce the cost of land to needed levels, he says "it should be enough to filter some of the apartment living away from the city centre". The Smart Growth philosophy of improving the commute into the central city is wrong, he says, and instead more effort should be made in providing affordable housing in or near the employment zones on the fringes of Auckland.
"People living and working locally makes economic sense," he says, although this is already happening to some degree in areas such as Silverdale in the North, and Takanini and Weymouth in the south.
So where can first-time buyers look to in the hope of finding "affordable" homes? Here are some, and the reasons why they might appeal.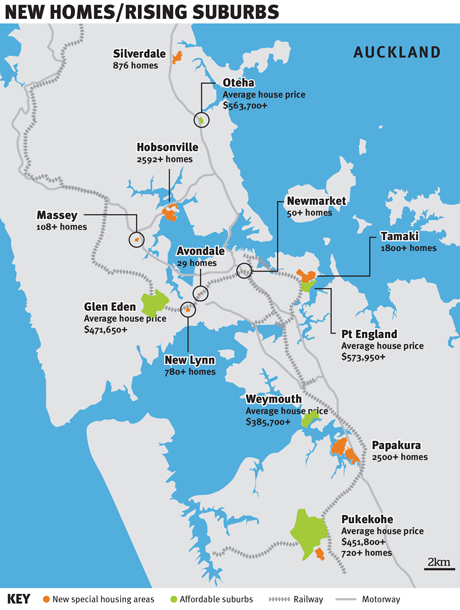 Oteha, near Albany, is close to a major bus station, and local bus services feed into what is currently the northernmost park and ride bus station. Already there are large numbers of homes built near the transport hub, near State Highway One. E-Valuer average prices in Oteha increased by 9.4 per cent last year, and at $563,700, the average now sits almost 16 per cent ahead of the 2007 peak.
While the area may seem a somewhat sterile modern urban environment, there is an abundance of local shopping centres, and the major shopping facilities in neighbouring Albany. These include the Westfield Mall, supermarkets and other national retailer chains. The suburb is also only a few minutes' drive to a string of North Shore beaches and is within walking distance to the Albany stadium.
Further north in Silverdale, Auckland Transport is already working on a new park and bus ride facility, and rapid commercial development there is obvious to everyone travelling along State Highway One. The addition of a new park and ride station should only help to drive the area's growth.
But the real driver of growth will be efforts by the Government and Auckland Council to accelerate the supply of affordable housing in parts of Silverdale North. About 680 new housing sites will be developed on a 53ha site to provide a mix of housing types, matched to current shortages. These will include smaller two-bedroom units and larger three and four bedroom homes. More than 6ha of the site will be parks and reserves. The first of these homes should be ready to live in by September next year, and the developers aim to complete the subdivision by 2018.
Another developer has plans for a site on Wainui Rd and Highgate Parkway, where about 180 new sites for homes will become available by the end of this year to accommodate a variety of housing types, including terraces and stand-alone dwellings. The developers are also preparing part of the site for business purposes, aimed at providing jobs. It is expected the first industrial buildings will be ready to occupy in 2016. Work is expected to begin later this year on a new motorway exchange to link the Highgate Parkway to both the new motorway exit and the existing Wainui Rd.
Another area set for development is the Huapai Triangle, south of the Riverhead Forest, on State Highway 16, in the north-west of the city. The Auckland Council says one option for this area is to provide a portion of the homes at less than 75 per cent of the Auckland median house price. As a guide, the median house price in August last year was $563,000, meaning that around 140 houses would need to be provided at a cost of around $422,000 or less. Once again improved transport links to the area, just south of the railway line at Huapai Village, is one of the drivers.
An area where construction is well under way is at Hobsonville Pt, where about 700 new homes are to be built during the next three years. The aim was to provide 10 per cent of the homes at under $400,000, and an additional 10 per cent were to be priced between $400,000 and $485,000.
A further 300 to 400 homes will be built in a nearby area which had been ear-marked for the marine industry, but housing is now considered to be greater priority. Urban and terrace housing and apartments are proposed. More established western suburbs such as Henderson, Herald Island, Massey/Royal Heights, West Harbour and Whenuapai are already benefitting from higher inner-city suburb prices rippling outwards.
The eventual completion of the Western Ring Route through Waterview will mean these suburbs are effectively closer to Auckland Airport and the city's southern industrial areas once the Waterview Tunnel is completed in 2017.
In the city's eastern suburbs the biggest project under way is the regeneration of parts of Glen Innes, Point England and Panmure. Around 6000 new homes are planned over the next two decades, with between 2000 and 2500 of them to be occupied during the next five to 10 years. The mix of housing will include social rental, affordable homes and private market housing. Seventy per cent of homes in the area are now owned by Housing New Zealand, and under the regeneration programme there will be suburban or terraced housing, and apartments, and areas zoned for single house construction.
Perhaps the most dramatic boost in housing numbers will be in parts of South Auckland. A Special Housing Area has been established on land currently used for dairy farming, near Wesley College, in Karaka. There are plans for a minimum of 4500 new homes to be built over a 15 to 20 year period, including mixed housing and apartment living.
The first Special Housing Area development is in Weymouth, on vacant land that looks out on to the Manukau Harbour, near Manurewa. About 280 homes are planned over four years, and they include homes priced between $325,000 and $475,000. There will be 3.7ha of parks and reserves, and the development will include smaller two-bedroom units and larger four and five-bedroom homes. The developers say the first residential housing should be ready by September, with the entire development completed by 2017.
Four separate developments are included in plans for the Hingaia Peninsula, west of Papakura. Around 4000 new home sites are planned. Once again the land is close to State Highway One.
Further south there are plans for 72ha of land at Belmont, on the western fringe of Pukekohe. This development will provide for about 720 new homes over the next decade, including affordable homes priced at between $416,000 and $436,000. The development provides for a new school, and will include two and three bedroom units and larger homes.
Not all of these newly developed areas will appeal to younger buyers who would prefer to live closer to Auckland's centre. But increased pressure on Auckland's housing prices will force many to these newer developments on Auckland's expanding urban fringe.