Accommodation blocks Ingenia is selling in the heart of Wellington are reckoned to be worth at least $55 million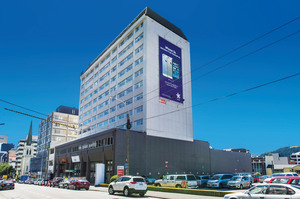 Australian listed Ingenia Communities Group is selling its three big Wellington properties, estimated to be worth more than $55 million.
"The offering comprises three fully leased, recently refurbished and seismically upgraded student accommodation buildings," says Bruce Whillans, managing director of Auckland-based Ray White Commercial who is marketing the portfolio with colleague Brendan Keenan.
Whillans and Keenan are selling the properties by tenders closing on April 3, with potential buyers being able to tender for individual buildings or the entire portfolio,
"Cumberland House, Education House and the McKenzies Apartments are all in Willis St and are leased to Victoria University and the Wellington Institute of Technology, or Weltec, for 15 years, with guaranteed rental growth."
Whillans says the properties are close together, creating a unique student housing hub that is less than a 15-minute walk away from Victoria University's main campus and Weltec's city and new School of Hospitality campus on Cuba St.
The buildings also benefit from being close to the city's main retail, restaurant and entertainment district at Cuba St and Courtenay Place, just a five-minute walk away.
The three student complexes are generating total net annual income of $4,322,097 and are forecast to deliver $4,330,986 over the next 12 months to January 2015 through a series of market and Consumer Price Index-based rent reviews. The rents are based on a combination of commercial tenancies and 618 student beds.
Whillans says the already robust cash-flow portfolio could be further boosted by renegotiating and re-leasing several of the commercial tenancies, as well as taking advantage of further short-term accommodation revenue from Cumberland House during the summer holiday period. "An additional 464 student beds could potentially be added by future development," he says.
Over the years Ingenia has owned the properties, it developed a strong summer accommodation operation catering to summer students and budget travellers. This business was underpinned by key Wellington events including Rugby Sevens, cultural festivals, and concerts.
In terms of their investment value, Whillans says tertiary student halls of residence rarely become available because they are held in high regard as property assets for their stable counter-cyclical incomes. They are traditionally owned by governments, sovereign wealth funds and larger offshore real estate investment trusts.
"Halls of residence are internationally recognised as a sought-after and growing asset class and this portfolio is not dissimilar to a government bond, with over 90 per cent of the portfolio's income anchored by Crown-funded tenants.
"A blend of CPI, fixed and formula-based annual rent reviews ensures a guaranteed rental growth while capitalising on the strong performance of the student housing sector where the supply of new accommodation is struggling to keep pace with enrolment growth," Whillans says.
"Victoria University currently receives twice as many applications for its student halls of residence than the beds available, which demonstrates the shortfall in supply."
The university has four main campuses in Wellington with a student population of about 21,000. Three are within a 10-minute walk of Cumberland and Education House. The fourth, at Karori, is a 10-minute drive from the CBD.
Weltec also has two city campuses and a student population of about 9500, with enrolment growing significantly over the past five years. The institute has committed to expanding its role of foreign exchange students, a key source of demand for student accommodation.
"By implementing an international marketing and recruitment strategy for Wellington, Weltec aims to increase the number of international students in Wellington from 2013 onwards," Whillans adds.
"Weltec's first student hall of residence, McKenzies Apartments, is very sought after. Demand exceeds supply, and all 280 student beds are taken up for the 2014 academic year."
Whillans sees the portfolio as an exceptional opportunity to secure an institutional investment-grade portfolio with a stable income stream which also offers significant development scope and value-add potential.
Catering to first-year students, Cumberland House at 237-253 Willis St has 187 rooms with 104 self-contained bedroom apartments and 123 communal beds, providing a total of 227 beds over 11 levels.
The ground-floor lobby accommodates a dining hall and kitchen. Additional mezzanine office and meeting-room space above the ground-floor is used by Victoria University staff. The first floor of the tower is used as a student community centre and includes a cinema, laundry, kitchen, gym, study rooms, workrooms, music room and lounge area.
Work and Income occupies part of the ground floor with offices extending the length of the building through to the adjacent podium building facing Victoria St.
The main tower was seismically strengthened last year to 70 per cent New Building Standard, with a major $5 million refurbishment project completed in the past month. This included new lifts, water boiler, carpet, paint and furniture throughout, new bathrooms, external painting, new commercial kitchen and dining area with the fit-out owned by the landlord and an overhaul of the reception area and offices.
Behind the main tower and separate from the Victoria University facilities is a second three-level building facing Victoria St, occupied by a mix of commercial tenants and parking.
Whillans says this could generate extra value over the rear portion by negotiating a new lease to a national bulk retailer with further development possible by way of a second tower with about 204 beds.
"Several serviced apartment and hotel operators have also registered interest in establishing an operation on this site," he says.
The McKenzies Apartments at 222-232 Willis St has 168 bedrooms split into 100 studio apartments, 44 two-bedroom apartments, 23 four-bedroom apartments, and one three-bedroom manager's flat, providing a total of 283 beds.
Weltec occupies all six levels of the building with the exception of a 517sq m restaurant on the ground floor previously occupied by Dennys. The balance of the ground floor has a reception area, office, community centre and TV lounge and 14 student beds. The building is configured around a main atrium with an interior courtyard on level 1.
The group spent $18 million on stripping the building back to a basic shell, including major seismic upgrading and a complete refit, and the apartments reopened last month.
Whillans says it offers some of the most modern and well-appointed student accommodation in Wellington and is the only source of student accommodation available through Weltec. "Long term a second building could be developed on the site on the southern car park, with initial concept plans indicating an additional 100 beds could be achieved.
"It could be possible to generate further income from this property by leasing the vacant restaurant, leasing the car parks on the southern boundary and generating more from the billboards on site."
Education House at 178-182 Willis St has 108 fully self-contained single studio rooms catering mainly for seniors and overseas students. It has six levels of accommodation, with a ground floor component which offers communal spaces, a lift-lobby and two retail tenancies.
The layout delivers 18 units per floor with an average unit size of 17-18sq m. Each unit is equipped with its own shower and toilet and a small kitchenette.
Covered parking for 17 vehicles is at the rear beneath the adjoining building, created by a peppercorn licence with a 25-year term with three further rights of renewals of 25 years each and a final expiry date in 2102.
A major $2 million refurbishment project was completed in the past month and the property now presents to an 'as-new' standard. Works included new lifts, hot water tanks, carpet, paint and furniture throughout, new heaters, a revamp to the external facade, a new roof membrane and an overhaul of the community lounge and laundry facilities.
There is future potential to add a further six floors to Education House, taking advantage of the 43.8m height restriction under the district plan. Indicative drawings have been prepared that make efficient use of the existing structure adding about 2292sq m of floor space, which would allow for an extra 100 student beds.
"In the short term, the current owners are in the process of negotiating a new six-year lease with the existing ground-floor cafe tenant, who has enjoyed a strong trading history at Education House. Additional revenue can also be achieved by leasing the vacant ground floor retail space and car parks," Whillans says.
Formerly the ING Real Estate Community Living Fund, the Ingenia Communities Group first acquired the New Zealand student portfolio in 2006 as part of a wider strategy to invest in seniors' housing and student accommodation across Australia, New Zealand and North America.
At the time, the portfolio was owner-operated with Ingenia being responsible for directly running the student accommodation facilities.
All three buildings were occupied by Victoria University students during the academic year with the uni underwriting occupancy levels.
In operating the facilities, Ingenia partnered with Campus Living Villages, an international accommodation management group owned by Transfield.
Ingenia says it is divesting of the properties after a strategic review in 2010 which has seen it progressively sell its offshore portfolios and increase its focus on the Australian seniors' housing market.
Over the past three years the group has divested its interests in the Canadian and United States seniors' housing portfolios and completed its exit from the United States student housing market.
In New Zealand, it decided to invest $25 million upgrading its Wellington interests before putting them up for sale again.