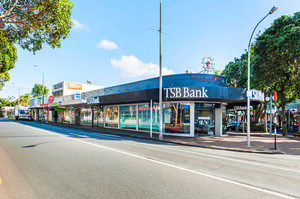 For the first time in more that 100 years the landmark North Shore property known as Hall's Corner, in the heart of Takapuna's commercial and retail centre is being offered for sale.
On the high-profile intersection of Lake Rd, Hurstmere Rd, The Strand and Northcroft St, Hall's Corner consists of four titles that are being sold as one portfolio.
"This property presents an unparalleled opportunity for investors to stamp their mark on the future of Takapuna," says Andrew Bruce of NAI Harcourts North Shore who, with colleague Rob Meister, is marketing Hall's Corner for sale by tender closing at 4pm on Thursday, April 3.
Meister says the four titles include four buildings with a total combined floor area of 2381sq m and road frontage on Lake Rd and Hurstmere Rd.
"Without any redevelopment Hall's Corner has been conservatively appraised as being capable of delivering income of $920,000 a year plus GST when fully tenanted," he says.
"There are 13 retail and office tenancies on the site providing a total annual rent of $673,827 a year plus GST along with two vacant tenancies offering immediate development opportunity.
"The sale of Hall's Corner is the opportunity of the century, as it is the first time in more than 100 years it has been offered for sale and it has potential for a redevelopment that could change the face of central Takapuna."
Bruce says Takapuna is well on its way to being an international waterfront destination.
"It is undergoing a commercial and retail renaissance," he says. "The city now employs 10,000 plus people and encompasses more than 400 retail and service businesses, and 50 bars and cafes."
Bruce says recent development has added leading retail and hospitality destinations. Other high profile additions include the proposed National Ocean Water Sports Centre on Hurstmere Rd, the Hurstmere Green upgrade, Verve's Hurstmere Rd laneway development, the new public art gallery, the proposed realignment of The Strand and the council acquisition of land on the seaward side of Hurstmere Rd for use as a reserve.
"The sale of Hall's Corner, with its huge retail street frontages, is an opportunity for investors to add to and benefit from this renaissance," Bruce says.
The property, currently zoned business sub-regional 3, covers the addresses of 2, 4 and 20 Hurstmere Rd and 486 Lake Rd.
Under the proposed unitary plan it is zoned Metropolitan Centre, Takapuna 1, Sub-precinct B and has a total combined area of about 2448sq m.
The landmark corner position of the portfolio is 2 Hurstmere Rd, which has two buildings containing 622.7sq m of floor area and frontage to Hurstmere Rd and Lake Rd. The V-shaped single level building on the corner has five tenancies, one vacant. The smaller two-level building which faces west on Lake Rd has one retail and one first-floor office tenant.
The vehicle entrance from Lake Rd gives access to a courtyard area at the rear of the buildings, where there are six car parking spaces.
Tenants of 2 Hurstmere Rd are TSB Bank paying $120,000 net annual income, 3 Legged Dog Design $14,837, Habitual Fix $35,000, Umi Sushi $27,560, Mondo Travel $50,560 and Robert Harris $70,000 totalling an annual net income of $317, 957.
Bruce says a new lease will not be entered into on the vacant tenancy to allow the new owner flexibility.
Modern tenancy fitouts provide a smart external appearance for 4 Hurstmere Rd which is a two-storey 374sq m building with a wide frontage on to Hurstmere Rd.
It has four retail tenancies with a total net income of $166,800 plus GST, and two car parks at the rear of the building accessed from Lake Rd.
Current tenants are Jocose, which pays $68,000 a year, Tank Juice Bar $40,000, Bakers Delight $41,000 and Accessorio $17,800.
An L-shaped building at 20 Hurstmere Rd has 814.5sq m over two levels. It is directly opposite the former McKenzie's Department Store which is now a boutique laneway of fashion and food tenants.
Tenanted by Paper Plus paying $189,070 a year, the building has an internal pedestrian access linking to adjoining 486 Lake Rd.
Meister says 20 Hurstmere Rd is acknowledged as being under-used and has huge development options, including construction of smaller boutique retail stores with an internal pedestrian lane linking through to Lake Rd, first floor restaurant/ bar or office and a possible outdoor deck area.
The last address, 486 Lake Rd, has a tenancy floor area of 570sq m and an estimated net annual rental income of $200,000. Now vacant, it has been occupied by the likes of Payless Plastics and Ezibuy, and has potential for redevelopment.
Hall's Corner is named after William Henry Hall who acquired the corner property in 1907 and established a bakery and tearooms.
Hall served at Gallipoli during World War I. On his return he built and expanded the property, enabling him to lease various shops while still running his bakery.
Several tenants have occupied the corner site. One of the best-known and longest-lasting was Ingham Hardware, which occupied the corner shop for many years.
After William Hall's death in 1948, his daughter, Takapuna business woman Phyllis Hall took over management of the property.
After her death, Graeme Hall took over management and is the current representative for the Hall family interests.
Late last year the family decided to sell the entire property portfolio through NAI Harcourts and pass the baton to a new owner to usher in the next 100 years.