146 PINE VALLEY RD, SILVERDALE
SIZE:
Approx 5.0325ha, house approx 390sq m plus separate guest wing.
PRICE INDICATION:
Interest is expected above $2.65 million. Tenders close March 14.
INSPECT:
Viewing by appointment only.
SCHOOL ZONES:
Orewa Primary, Orewa College.
CONTACT:
Simone du Bernard, Harcourts, ph 021 433 965.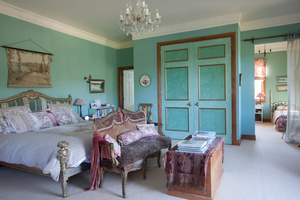 An avenue of deciduous Liquidambar trees with a peep of a traditional masonry fountain is a view that is just as magical today as when Gerard and Diane Zwier first shaped up their dreams for this rural land.
Gerard and Diane planted these trees before construction began on their three-storey Georgian villa and, in doing so, they staged an elegant scene steeped in symmetry for the property they call "The Ambers".
"We wanted to create a tunnel of trees so that the house was always the secret at the end of it," Diane explains. "People wondered what was at the end, and they never knew until they reached the courtyard."
Fast-forward to late 1993 and the day the concrete roof tiles were laid. Diane couldn't get to the site quickly enough. "I saw it and I thought, 'This is it! This is exactly what we envisaged.' Even now, every time I arrive home I still get that same feeling of it still being so special."
Diane's love of stately European country homes, her interior-decorating training and knowledge of building plans teamed with Gerard's keenness for big projects and an eye for the big picture proved unstoppable, especially when they found this site.
They'd been looking for land north-facing at the rear, suitable for formal living to the south and close to the water. They got it all, plus mature bush, on land that lies next to the upper reaches of the Weiti River.
The Georgian style of the home that they designed together worked a treat off Gerard's enthusiastic tape measure, too. His "must have" list included a 3m-wide hallway. In the centre of the 15m-wide house with its 2.8m-high stud, it has delivered them a footprint that includes a 31sq m front lounge and a 16sq m library downstairs, and a 36sq m master bedroom upstairs.
As Diane explains it: "Without input from each of us, this house wouldn't be here." Gerard's detail is in the library's built-in bookshelves, and the dado panels in the entrance and up the stairs beneath the photo gallery. The mid-level landing has an Afro/Indonesian theme, in keeping with Gerard's Indonesian birthplace and Dutch heritage. The extra step up to the second storey with its concrete mid-floor defines this spot as a resting place rather than a transition area.
Throughout, Diane has brought soft paint colours, paint effects, wallpapers and lightly patterned fabrics to play in each of the themed, named bedroom suites for their B&B guests.
In the timber kitchen, Diane opted for single rather than multiple panes of glass in the bay window for the best views of the symmetrical mediaeval cross garden, where several weddings have taken place.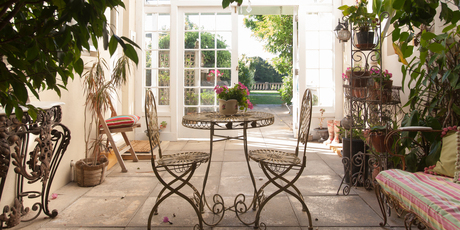 Off the 18sq m French-style conservatory that links the house to their large office/media room, there is the central courtyard that leads to the French/Italian-themed retreat with its barn-like, shuttered exterior.
Even dining outdoors comes with enviable choices here. There is scope for large-scale al fresco dining in the courtyard and a smaller, more intimate setting by the pergola, where the table grapes drip in bunches and frame the view out from the formal dining room.
For quiet moments, the formal lounge with its curved five-bay window and French doors takes some beating. "I love having a room that is not lived in every day, where I can light a candle, enjoy a glass of wine and just contemplate being here," says Diane. "There's a real feeling of serenity here." It's a feeling they may well recreate as part of a new project.