With future tenants already negotiating, all roads lead to this money-spinner.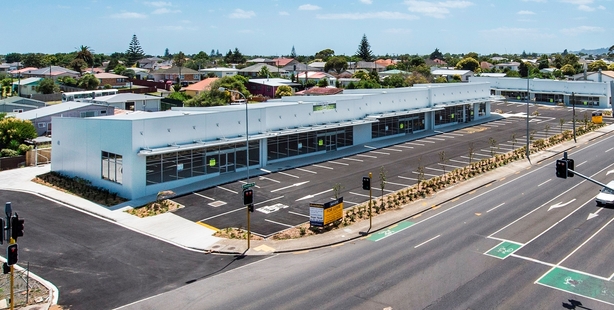 Eleven vacant retail units forming part of a new convenience retail development on a high profile site on Cavendish Drive in Manukau are up for sale as part of Bayleys' latest Greater Auckland portfolio.
The units sized from 77sq m to 313sq m are on eight separate titles, with these being offered for sale either as one lot or on an individual basis.
Geoff Wyatt and Tony Chaudhary of Bayleys Manukau, along with Millie Liang of Bayleys Auckland, are marketing the units for sale by tenders closing at 4pm on Thursday, March 6, at the Bayleys Building, 1 Allens Rd, East Tamaki.
Wyatt says most interest to date has been from investors looking at purchasing the entire property. "The vendor owns a portfolio of properties with funds committed elsewhere and is keen to sell the whole complex as one lot. It represents an opportunity for a new owner to add considerable value to this property through the leasing of the units. Given that the centre is already strata titled, there would be an option further down the track to sell down units individually with tenants in place to investors or with vacant possession to owner occupiers."
Wyatt, who also specialises in retail leasing, says there is now interest in the convenience centre from a wide range of tenants following a recent adjustment in asking rentals.
"We are at the advanced negotiation stage with a large retailer who would take the two biggest units totalling 621sq m and we are also dealing with potential laundromat, bakery, superette and cafe tenants." One of the tenancies has been specifically designed for a cafe with a 106sq m indoor area and a 72sq m outdoor patio.
The land's Business 5 zoning permits a wide range of retail uses plus showroom and office tenancies.
The Cavendish Convenience Centre is situated at 175-195 Cavendish Drive, which is the main arterial route from the eastern suburbs of Howick, Botany, East Tamaki, Dannemora and Ormiston through Manukau City to the Highway 20 interchange and on to Auckland Airport.
"The convenience centre is prominently positioned on Cavendish Drive to provide great signage exposure to around 15,000 to 18,000 vehicles passing by each day, with easy access to the site via a controlled intersection and an additional entry and exit point at the eastern end of the property," says Chaudhary.
The property comprises two separate buildings of 1342sq m and 410sq m, constructed in the latter part of 2013, on a 5090sq m site with 77 car parks located in front of the tenancies.
"The buildings are mainly constructed of low maintenance, solid tilt slab concrete with an attractive modern facade, high stud ceilings and large floor to ceiling windows which provide excellent natural light to the interior of each unit," says Chaudhary.
"Overall it is a well designed, nicely presented and functional retail development which is strategically located to service potential shoppers travelling past on Cavendish Drive, the substantial surrounding residential catchment area and well established neighbouring businesses."
What's on offer
The property: Eleven vacant retail units
Where: 175-195 Cavendish Drive, Manukau
Agency: Bayleys
Method of sale: Tenders closing at 4pm on Thursday, March 6,
Features:
*On eight titles for sale individually or one lot
*Retailers already negotiating to lease
*Located on high profile arterial route
*Constructed chiefly of low maintenance materials