The attractive main entry foyer of 9 Princes St incorporates the three-level atrium retained from the facade of the former Grand Hotel.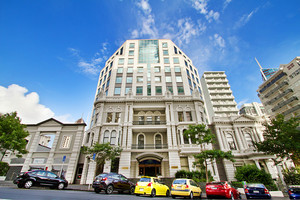 With Fonterra's new head office building now under construction at the Viaduct, the dairy co-operative's CBD headquarters building at 9 Princes St on the city ridge is being marketed for lease.
"Tenant commitment is being sought from late 2016 to early 2017 after Fonterra's current lease expires," says Matthew Hockey, associate director office services for CBRE who, with colleague Campbell Pritchard, is exclusively leasing the space on behalf of landlord Auckland Terra.
"The 16-level office tower is one of the most distinctive and visible buildings on the city skyline and is well known as one of the country's premium business facilities," Hockey says. "It will ideally suit organisations seeking office space in excess of 3000 square metres and offers a significant opportunity to prospective tenants through a combination of its size, quality fit out and pricing."
Hockey says there is already strong interest because of limited leasing options for office space around the city. "We are talking to potential tenants who see an excellent opportunity presented by Fonterra's impending departure.
There are around 100 businesses in and around Auckland who need more than 3000 sq m so we know this building will hit the sweet spot for many potential tenants who are looking to expand or move into a new central office location within the next few years.
"With a price point below that of newly developed buildings, the vacated space will offer occupiers a high-profile presence in the CBD at a reasonable rental price - particularly when compared against the cost of leasing space in newly constructed buildings.
"The large amount of space on offer here comes at a time when an upbeat economic outlook is driving positive demand for office property. Combined with the few large buildings currently under construction, this is underpinning forecasts of a significant reduction in central city vacancy."
Built in 1990 by Fletcher Construction, 9 Princes St occupies a prominent 2504sq m site with frontages to both Princes St and Bankside St.
The building was externally refurbished and waterproofed in 2009 by Fletcher Construction. An internal refurbishment that was completed in 2010 included a new fit-out for the lobby area cafe and an upgrade to the balconies.
The attractive main entry foyer incorporates the three-level atrium retained from the facade of the former Grand Hotel and provides access to the ground floor amenities that encompass the cafe and conference facilities.
"A current total net lettable area of 10,541sq m could be extended to about 12,500sq m," Hockey says.
Open decks on a number of levels maximise expansive views provided by the city ridge position.
Within the building three basement parking levels contain 148 covered car parking spaces.
Pritchard says 9 Princes St features all the required attributes for a large corporate tenant or for several smaller businesses looking to be based in a strategic CBD position.
"Contiguous floor plates of just under 1000sq m offer flexibility for a single anchor tenant or for multiple occupiers looking to maximise their use of space," Pritchard says. "The quality of the fit-out means the building will be ready for new occupiers to move straight in.
"With easy onsite parking, the cafe, and a number of key amenities like childcare facilities, hotels and restaurants nearby, the building offers its new tenants a complete accommodation package. For a company looking to boost its brand image, the naming rights and signage on 9 Princes St represent the cherry on top."
Pritchard says the building's balconies allow the hosting of staff and client functions in an outdoor setting without having to go offsite.
He says the landlord has an excellent track record and the property has a first-rate building services specification. "Occupying a well-maintained and serviced property is a considerable benefit to corporate tenants who need to keep their focus firmly fixed on growing their own businesses rather than worrying about property issues."
Hockey says the location in the heart of Auckland's legal and financial district will appeal to many firms requiring a city presence. "Tenants can be close to their clients and suppliers within the large number of surrounding office towers. They will also benefit from the high onsite parking ratio for the CBD which is a draw-card for attracting skilled staff as well as being convenient for visiting clients.
"The building has close and easy access to all the major motorways while the Britomart transport hub and ferry terminal are just five minutes' walk away. Just a short distance down the hill in Shortland St, High St and Queen St, there are numerous shops, restaurants, cafes, supermarkets, gyms and entertainment venues."
Pritchard says improved economic conditions have resulted in the CBRE being particularly active in the Auckland office leasing market, recently completing the pre-commitment of 5200sq m to AECOM at 8 Mahuhu Cres and the leasing of 11,000sq m at 8 Hereford St to Auckland Council.