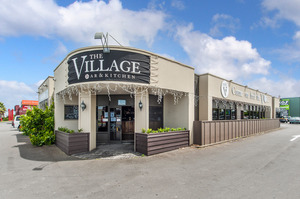 Signs of an easing in a supply shortage that has constrained investment activity in the commercial and industrial property markets can be seen in the size of Bayleys first portfolio auction for the year, with 20 properties to go under the hammer in the agency's Greater Auckland auction on March 5.
"By a considerable margin this would be the largest grouping of properties we have had for auction at this stage of the year," says John Church, Bayleys' general manager commercial and industrial.
"Based on the increased volume of properties that Bayleys has listed since the begining of this year - compared with the same time last year - it seems likely the imbalance between supply and demand that has put a brake on the property investment market over the last couple of years will diminish.
"There's unlikely to be a sudden supply surge but we would expect a greater amount of stock to come on the market as interest rates rise and more owners look to take some capital gain from increasing values."
Richard Valintine, Bayleys' commercial and industrial auctioneer, says continuing strong competition for auction offerings is likely to see both the volume and value of sales increase this year.
"We are still expecting demand to outstrip supply for some time to come and, in this sort of market, auctions are popular because a number of bidders competing for a property ensures the seller will receive the best possible market price," Valentine says.
"The transparency of auctions is also a big thing for both sellers and buyers and has contributed to their greater acceptance. Buyers can see where their competition is and sellers can see what the market demand is for their properties and what buyers are willing to pay. It helps align buyers and sellers and, consequently, has a high success rate as a method of sale."
Valintine says on average over two-thirds of commercial and industrial properties put up for auction in portfolios marketed by Bayleys' Auckland and Wellington offices over the past two years have sold, either before, at or after auctions.
Last year, the value of auction properties sold by these two offices exceeded $120 million, up from $111 million in 2012, with the average sale price also up to $769,620.
Valintine says this can be attributed to greater confidence among vendors in selling higher-value properties by auction. Large auction sales concluded by Bayleys last year included the sale as one lot of three neighbouring buildings at 492-500 New North Rd for $6,450,000 and the sale of six retail outlets at 13-21A St Heliers Bay Rd, also as one lot, for $6,020,000.
Valintine says another noticeable feature of the auction market over the past six months or so has been the increased interest in properties offering added value opportunities or future development options.
Examples of this have included a 1960s-constructed 315sq m retail building on an 832sq m site with further development potential at 113 Favona Rd, Mangere, which sold at Bayleys' last Total Property auction in December for $1,615,000 at a 3.2 per cent yield after 118 bids. Attracting 127 bids, again at a Total Property auction, a 746sq m high-profile site at 112 New North Rd, Eden Terrace, with the potential to be much more intensively developed, sold for $1.5 million at a 2.9 per cent yield.
"There has also been consistently strong interest in more traditional investment auction offerings, encompassing well-located properties with a good lease profile, and we expect this to continue in 2014," says Valintine. "Retail properties are particularly popular with locally based Asian investors and Bayleys has focused on building up a strong team of Chinese, Korean and Indian language salespeople to service these buyers."
Offerings in Bayleys' first Greater Auckland auction portfolio for 2014 include a mixture of hospitality, retail, office and industrial property.
The Village Bar & Restaurant at 272 Ti Rakau Drive, East Tamaki, is one of two hospitality premises for sale as investment offerings.
Tony Chaudhary, who is marketing the property with Bayleys Manukau colleague Janak Darji, says the well-established 359sq m complex has recently been refurbished to a high standard. A 15-year lease in place from January 2011 with two-yearly rent reviews and one five-year right of renewal is producing net annual rental income of $100,000.
"With 18 gaming machines and 20 car parks, this is a well-presented property on a high-profile corner site which has potential for future growth," says Chaudhary.
The Jolly Punter Sports Bar in Belmont on the North Shore is the other licensed premises up for auction. It occupies the ground floor of the two-storey character building on a 178sq m site at 148 Lake Rd, with the first floor subleased as a residential flat.
The property, which is part of a strip retail complex, has a two-year lease in place until March next year, with five further two-year rights of renewal, and is producing net annual rental income of $45,000.
"The long-established tenant has operated the only bar in the vicinity since 1995," says Stephen Scott of Bayleys Auckland, who is marketing it with Simon Aldridge of Bayleys North Shore Commercial.
"There are also 18 gaming machines on site which adds considerable value to the property."
Scott says the lease has a termination clause in it providing for possible future development of the site.
Another property, with longer-term development potential and occupied by a multinational tenant, is a 950sq m site at 25 The Strand in Parnell, marketed by Alan Haydock and Damien Bullick of Bayleys Auckland.
Bridgestone New Zealand has occupied the site for more than 20 years and the property houses a 512sq m Bridgestone Tyre & Auto Services Centre. The current lease produces net annual rental income of $94,832 plus GST, expiring on October 31 this year. It has one further right of renewal for three years but with a 12-month demolition clause in place.
"The property could be developed in the short to medium term to take advantage of the dual street frontage with Augustus Terrace and generous height allowances under the current zoning," says Haydock. "Or it could be land banked as a long-term hold by retaining the tenant and benefiting from the future development that is likely to occur in this prime city-fringe location."
One of the smallest standalone properties in the CBD will also go under the hammer as part of the Greater Auckland auction on March 5.
The landmark 173sq m building, known as the Pastry Pitt, is on a 98sq m site at 8 Pitt St and is being marketed by Mike Adams and Nigel McNeill, Bayleys Auckland. It produces income of $32,838a year from a ground-floor cafe and two consented billboard tenancies. "The upstairs area has previously been leased for residential use but is currently vacant, so there is an opportunity to add income and value to the property," says McNeill.