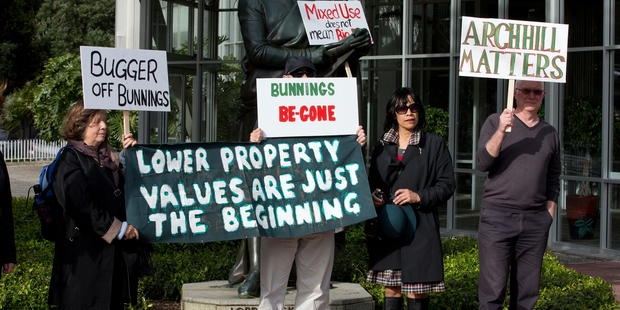 An Environment Court mediation is scheduled this month over opposition to the huge new Arch Hill Bunnings.
Legal experts and representatives of the Arch Hill Residents Society, Auckland Council and Bunnings are due to meet on February 25 to discuss the proposal for the four-level store and ascertain whether any common ground exists.
In November, independent planning commissioners led by Greg Hill gave the store the green light, leaving residents stunned after they spent more than $50,000 fighting that consent application.
David Batten, of the society, said a further $100,000 would be needed if the matter proceeded to a full Environment Court hearing which could also delay Bunnings. So, he said, mediation was in everyone's interests.
He is hoping for a big boost to the society's fighting fund from an art auction next month.
He said the society had sold more than 60 cases of a special brew, and had sold T-shirts and film event tickets.
Bunnings chief executive Jacqui Coombes expressed delight about getting approval for a store and the business had taken into account the opinions of local residents and adapted its normal design and some of its operating procedures to suit the locality.
The details of the design had been a big part of its success, she said.
But Batten said the decision should concern many.
"It sends a worrying signal to all big box retailers that non-complying development, regardless of scale or suitability, can obtain Auckland Council's consent to build within a mixed-use zone."
Mixed use is defined as small to medium-sized businesses developing along with intensive housing.
Batten said Arch Hill residents were pro-development and supported intensification and the rise of more apartments in their area. But Bunnings did not fit that category.
"We don't want our community turned into a Wairau Park or Lincoln Rd, nor wish to see other similarly zoned areas potentially suffer the same fate."
Barrister David Kirkpatrick, who represented Bunnings in its consent application, has now been appointed an Environment Court and District Court judge and is chairman of the Unitary Plan hearings panel. Michael Savage of Park Chambers is now representing Bunnings.
Arch Hill Residents Society art auction, Hopetoun Alpha, 19 Beresford St, Friday, March 21.