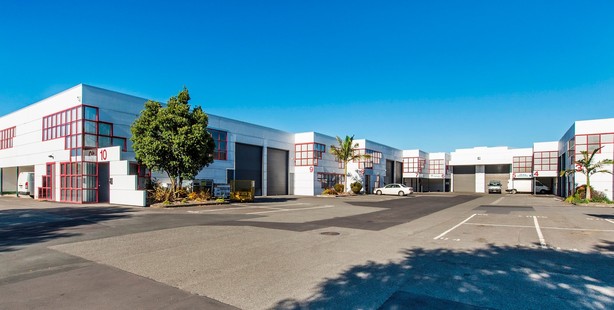 A fully leased block of 10 modern industrial units, each with their own certificate of title in the St Johns/Mt Wellington industrial precinct is available to purchase for the first time since the complex was built in 1989.
The property is featured in Bayleys' latest Greater Auckland portfolio and is being marketed for sale by Cameron Melhuish and Alan Haydock of Bayleys Auckland. Tenders close for 18 & 20 Hannigan Drive at 4pm on Wednesday, March 5, unless it sells prior to that date.
Melhuish says the property, which is for sale as one package, is producing net annual rental income of $313,856 plus GST.
"It is a well presented industrial complex that is under-rented and will provide a significant add value opportunity and income growth for the next owner who can progressively build up rentals as the varying rent reviews, lease renewals or expiries occur. Additionally, with each unit sitting on its own title, the possibility could be explored of selling down individual units to their tenants or investors."
The 3630sq m Hannigan Drive complex is located on a 5325sq m site, with the units ranging in size from 331sq m to 457sq m.
Haydock says each unit features high stud warehousing with associated ground floor offices and/or showroom space, mezzanine offices and amenity areas. Construction is mostly tilt slab concrete with iron roofing and aluminium joinery.
"The versatility of the premises is shown in the wide range of tenants that are in occupation with another feature being the generous 72 car parks on-site," says Haydock.
The property forms part of the established and well known Hannigan Drive commercial and industrial precinct. "It's popular with tenants because of its central location and is likely to become even more popular as a result of the huge privately and publicly funded Tamaki Edge transformation development project that will further improve the area," Melhuish says.
The property is in a strategic growth location near Stonefields and the Lunn Avenue commercial strip, which is attracting new tenants as a result of the major roading and transport infrastructure upgrades well under way in this area under the Auckland Manukau Eastern Transport Initiative (Ameti).
The Stonefields residential development is on track for completion in 2015. Once finished it is expected to comprise 2500 dwellings housing 6500 people.
"Its development has been a pre-cursor for the Lunn Avenue redevelopment into a substantial commercial retailing area which provides a range of retailers and amenities," says Haydock.
Melhuish says Hannigan Drive's increasing attractiveness as a business location is evidenced by the recent leasing of the 5367sq m property at 25-27 Hannigan Drive to The Produce Company which cited the imminent roading infrastructure improvements and its impact on the area as a major attribute of this location.
Melhuish says the $1.5 billion Ameti initiative aims to unlock the true economic value of this part of Auckland by greatly improving roading networks, introducing additional routes and increasing public transport choices. "This will enhance the location's accessibility and should generate greater tenant demand which inevitably puts pressure on rentals," says Melhuish.
The Ameti upgrade will include upgrading of current major routes including Mt Wellington Highway and the Ellerslie-Panmure Highway to reduce travelling times to State Highway 1 and add new routes to create greater travelling efficiency. A new road linking Mt Wellington Highway and Morrin Road and Fraser Road is expected to significantly ease traffic congestion.