Fitzgerald Glade eatery situated by native tree tunnels on the market for $660,000.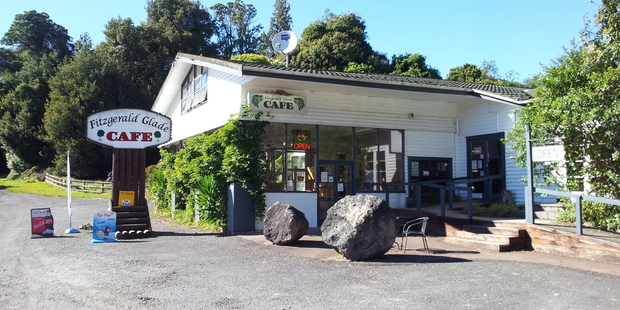 The well-known Fitzgerald Glade Cafe, located between indigenous "tree tunnels" on State Highway 5 between Tirau and Rotorua, is for sale as a freehold property and going concern business.
"This is not just a cafe but a home, block of land, outbuildings and a business with income," says Paul Sanford from NAI Harcourts Rotorua who is marketing it for sale for an asking price of $660,000 plus GST if any.
The cafe is located on State Highway 5 between Tirau and Rotorua on the popular tourist route also known as the Thermal Explorer Highway.
"Traffic volumes along this stretch of road exceed 5000 vehicles per day," says Sanford.
"The beauty of the location is best described by an extract from the respected Lonely Planet travel guide which describes Fitzgerald Glade as 'another of the North Island's natural wonders, a section of Highway 5 where the native bush grows up and over the side of the road, and the trees make a canopy with their interlocking branches, forming a tunnel over the road'."
Sanford says the commercial building encompassing the cafe is about 250sq m of sound weatherboard construction and is well maintained with the road frontage having been repainted in 2011.
"The property includes three-bedroom, self-contained owner's accommodation attached to the cafe building with internal and external access. In addition, a detached single-bedroom cottage of weatherboard construction at the rear of the property is suitable for live-in staff accommodation, for guests or it could be sub-let for additional income."
Plenty of off-road parking is provided for cars, trucks, boats and caravans in a sealed area. The cafe comes with an extensive list of chattels and the property includes 6675sq m of land.
"The fully fenced block of land is cleared and used for grazing. It has its own artesian water supply from the renowned Blue Springs aquifer making it self sufficient in water and probably capable of supporting a commercial harvesting business like neighbouring properties which have supported horticultural activities."
Sanford says the cafe's large dining area makes it a popular stopover for small or large parties including family groups, car and motorcycle clubs.
The dining area is configured to seat 60 to 70 patrons and is currently divided into three parts with the main area seating 26, a conservatory-styled room at the front seating 16 to 18, and an additional room for 18 diners leading through to the garden area.
"This space can be closed off for conferences, meetings or large groups while still operating the cafe in the usual way."
The cafe business incorporates a small gift shop which could be expanded.
In addition to the main dining rooms there are two mezzanine areas, one of which is fully enclosed and used as office space.
A feature of the main cafe is its lacquered matai floorboards and the redecorated front area finished in wood panelling.
A large kitchen includes reticulated gas supply, gas hobs, twin-tub fryer, hotplates, commercial fan forced oven, walk-in chiller, chest freezers and upright fridges. Other facilities include a dry goods store and chill room, baking room and cook's preparation room.
"The current owners operate the business as an on-premises cafe - catering out to various business and tourist activities and hosting catered functions on request," says Sanford.
"There is a huge carry over business from surrounding attractions like the Tirau Museum, Wingspan Trust, Off Road NZ, Rail Cruising Mamaku, Kuranui Lodge and Mamaku Blue Winery."
What's on offer
Property & business: Fitzgerald Glade Cafe.
Where: On SH5 between Tirau and Rotorua.
Asking price: $660,000 plus GST if any.
Includes: 6675sq m of land, owner's three-bedroom accommodation and cottage.
Agency: NAI Harcourts Rotorua