Lack of new builds will leave tenants struggling to find premium office space in Auckland.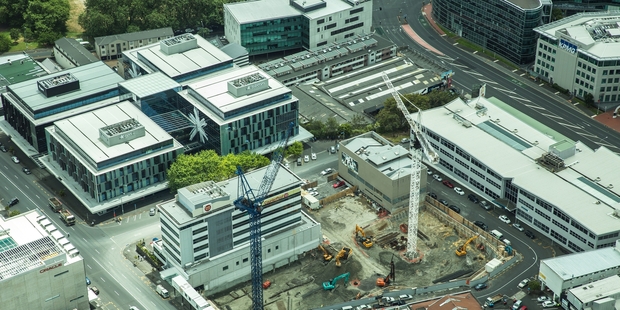 Auckland's central business district needs a rapid and major pick-up in commercial building development, says John Church, commercial and industrial general manager for Bayleys Real Estate, writing in Bayleys Greater Auckland magazine.
"Much of the new development activity needs to take place in the Wynyard Quarter or Western Quadrant because that is where the development land is, yet we are having some frustrations expressed to us about a perceived lack of urgency and transparency by the parties who control the land there."
Church says a supply shortage is already evident in the office market - the latest CBD vacancy survey conducted last month by Bayleys Research shows the vacancy rate for premium space in Auckland's six top buildings sitting at just 1.9 per cent, made up of smallish pockets of space.
"Tenants will struggle to find a floor of more than 1500sq m in the CBD, and the supply situation is going to get worse before it gets better because of the limited development activity that is under way at present."
He predicts that strong growth in the Auckland economy this year is likely to put further pressure on low vacancy rates at the quality end of the commercial and industrial property market, and stimulate further development activity.
Although two major projects have commenced recently - Mansons TCLM's build of an 18,600sq m office building at 151 Victoria St West and Goodman Group and Fletcher Construction's development of Fonterra's new 16,000sq m headquarters in Fanshawe St - more are needed, says Church.
The worsening supply situation does, however, mean that owners of good-quality, seismically sound office buildings are in a very strong position, particularly those who own properties with large floor areas.
"The shift in the balance of power from tenants to landlords is expected to gather further momentum this year, with incentives a much less significant feature of the leasing environment and the prospect of rental growth ahead."
Church says this year is kicking off on the back of a very buoyant commercial and industrial property investment market in the latter stages of 2013. He says 2014 is also expected to be strong across all sectors of the Auckland market.
Longer term, the growth differential between Auckland and the rest of the country is likely to continue to gather momentum as New Zealand follows the global trend towards ever-greater concentrations of people in large urban centres, he says.
Auckland's proposed Unitary Plan is expecting the city's population to surge by up to 1 million people over the next 30 years.
"Even if that turns out to be an exaggerated projection, there is little doubt that pressures of population growth will be immense, creating huge demand not only for more houses but also for a whole lot more jobs and bigger and better infrastructure," says Church.
"While this sort of growth creates headaches for planners, it is music to the ears of property investors and is why much of New Zealand's property investment activity is concentrated in Auckland. More jobs require more premises for employees to work from, which in turn puts pressure on land supply and values and creates investment opportunities.
"The property market is all about supply and demand, and when demand outstrips supply - as it is likely to do as Auckland continues to grow - rentals and prices go up."
Investors are already "circling the wagons" in anticipation of the opportunities that will arise from Auckland's future growth, and the new business land-zoning regime proposed in the Unitary Plan. "We are expecting a further ramping up in land sales activity in 2014, both to land bankers buying in areas where anticipated future zoning changes are likely to push up land values as well as to developers looking to action projects immediately."
Market status
What: Auckland CBD commercial building supply.
Situation: Shortage of prime buildings.
Solution: Rapid increase in new developments.
Problem: Perceived lack of urgency by landowners.