Tiny house may be way into property market for those struggling to buy in Auckland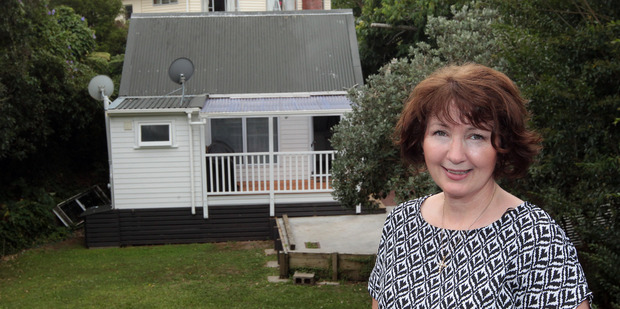 A pint-sized house - smaller than a double garage and below the minimum permitted size for an apartment - may be the new first rung on Auckland's hard-to-reach property ladder.
At just under 30sqm, the one-room Mt Albert house is going under the hammer, and could fetch up to half a million dollars despite sitting on just 300sqm of land.
The 25sqm living space combines kitchen, dining and bedroom with no internal walls. A small screen separates the single bed from the rest of the living space.
A 4.5sqm bathroom leads off the living area.
The freehold title, private position and city-fringe address will still tick many boxes for those squeezed out of the hot Auckland property market.
Less than 500m from Westfield St Lukes, the property is a 10-minute drive from Central Auckland, outside rush hour.
News of the sale comes in the same week Auckland house prices overtook Melbourne.
New figures from financial services provider UBS showed that average Auckland house prices were $700,030 compared to Melbourne at $685,681, and were also the same as Sydney prices six months ago.
Auckland continues to shatter property price records. State-owned valuer Quotable Value said the market has eclipsed the previous peak from late 2007 and Auckland led the way with property values climbing 15 per cent during 2013.
Owners of the tiny Auckland house, Barbara and Dave Yzendoorn, said the Taylors Rd property was perfectly proportioned and better than a unit or apartment because it could be extended and included outdoor living.
"There is room for someone to push out the side or go up," Barbara Yzendoorn said.
"It would be perfect for someone starting out or a couple who wanted the nice leafy area outside."
The couple bought the entire 756sqm property in 2009 for under $400,000.
Since then the property has been subdivided and 300sqm, including a driveway, was apportioned to the tiny house.
One real-estate agent, who declined to be named, said the property could fetch as much as $500,000 because of the possibilities with the land and its private position down a long driveway.
If it did sell for $500,000, the price per square metre for the land would be $1,666 - close to top suburb Herne Bay which sells for upwards of $1,800 per square metre.
The property is being auctioned by Barfoot and Thompson agent Paul Donovan who said it was a "charming and cosy cottage set in a tranquil spot". He would not be drawn on price and said there was no similar properties to compare it to.
The closest in recent years was a 56sqm cottage in John St, Ponsonby, which sold for $600,000 in 2012.
Mt Albert agent Anne Duncan said bare land in the area sold for at least $1,000 per square metre and sometimes up to $1200.
"I sold a one-bedroom house, which was semi-detached, on Margaret Rd and it was on a bigger piece of land, and that sold for $550,000," she said.
"The value is in the land and in general terms people can build around a 90sqm house on 300sqm of land depending where the driveway is and that type of thing."
Auckland Council resource consent manager David Oakhill said there was no minimum size for a standalone dwelling under the current district plan.
In 2007, the Auckland Council banned "shoebox" apartments and set minimum spaces for a studio apartment at 35sqm.
The Mt Albert house will be auctioned on February 19.