Business and a great lifestyle make an ideal combination.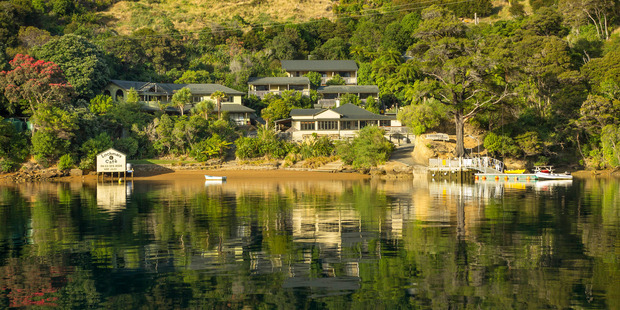 Lochmara Lodge, an award-winning luxury accommodation and dining property just 15 minutes by boat from Picton in Queen Charlotte Sound, Marlborough, is for sale.
The property has won environmental and business awards and is being marketed by Glenn Dick of Bayleys Marlborough for sale by negotiation with tenders closing on February 4.
"This freehold commercial lodge offers an owner-manager an excellent investment opportunity in a tourism hotspot," Dick says. "It's a special slice of New Zealand and the only luxury lodge of its kind in the area just waiting for a new owner to take over and stamp their own personality on it."
The lodge is accessible from the renowned Queen Charlotte Track, which provides a steady flow of visitors to the region.
Plans are also under way to develop a marine research and education centre at Lochmara Lodge, with the goal of building a sustainable marine environment in the Marlborough Sounds.
Lochmara Lodge accommodates 40 people and is situated on a 4.4ha site amid native bush. It has a total building area of 980sq m encompassing 14 rooms - seven open plan chalets and seven one or two-bedroom units, all with en-suites and tea and coffee making facilities. All the chalets have private bathrooms and balconies with views of the bay.
"The units, located underneath the manager's residence and lodge office, offer a selection of accommodation for families, couples and budget-conscious travellers," Dick says.
The lodge incorporates staff quarters, a licensed restaurant and cafe, an arts centre, health and beauty facility, bathhouse with massage room, and a wildlife recovery centre.
Other buildings include a workshop, boatshed, replica musterer's hut, Maori whare and several bird and wildlife structures.
The lodge's success and commitment to environmental protection, responsible travel and sustainable tourism have been recognised with a gold Qualmark environment award . In 2010 it received the Department of Conservation in Action award and in 2012 it was the Marlborough Chamber of Commerce medium-sized business winner.
"Being so close to Picton the lodge is able to cater to diners on short visits, day tours and cruises along with providing short and long-term accommodation," Dick says. It is also a popular venue for conferences and special events.
He says a growing number of tourists are visiting Marlborough and are predicted to increase with Tourism New Zealand reporting 1.3 million visitors in 2010, who brought $215 million into the region - a $7 million rise from 2009.
The lodge is also home to the Marlborough Sounds Wildlife Recovery Centre, a facility dedicated to wildlife rehabilitation and education. On the waterfront, the lodge has a jetty and consent for six permanent moorings to make access as easy as possible for visitors by boat. Water transfers by Lochmara's water taxi can cater for groups of as many as 20.
In addition to the Queen Charlotte Track, other attractions include free use of kayaks and a rowboat, bush walks, petanque, glowworm grotto, flying fox, 20 hammocks, feeding kakariki parakeets, eels, pigs, chickens and alpacas.
"New owners will take over several existing revenue streams, including accommodation, dining, an art centre and a water taxi," Dick says.
There are several options for development of the business, which operates from mid-September to the end of May.
One option could be opening in winter.
In conjunction with the development of the marine research and education centre, new owners could engage more with local schools as part of day trips on education and environmental awareness.
"This is a well-presented niche accommodation business with an established reputation, catering within an ideal location to a range of guests from international travellers to Kiwi families and couples," Dick says.
"The sale of this lodge offers a new owner an opportunity to expand the business and enjoy a great lifestyle in a stunning region where they can live, work and play."
What's on offer
Property and business: Lochmara Lodge.
Where: Queen Charlotte Sound, Marlborough.
Agency: Bayleys Marlborough.
Sales method: Negotiation and tenders closing February 4.
Features:
* Only 15 minutes by boat from Picton.
* Accessible from popular Queen Charlotte Track.
* Options for future development.