Community groups in small towns are fed up with being told they can't fix up abandoned schools that have turned into eyesores. Education reporter Nicholas Jones investigates why school closures have created such a mess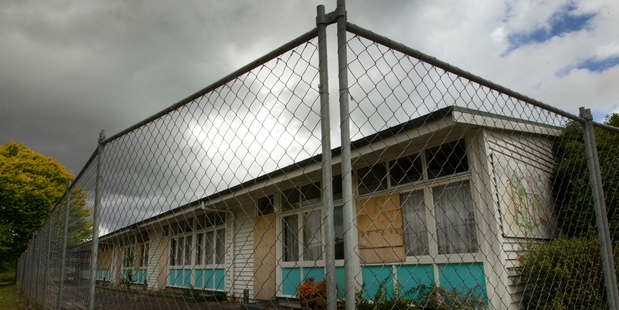 Closed schools with rateable values of more than $42 million have not been sold - amid concerns vandalism and neglect have turned boarded-up grounds into "rotting corpses".
One school has not been sold after being shut down 13 years ago. Another has sat empty since 2007, racking up security and maintenance costs of more than $160,000.
The Government is currently trying to offload 52 closed schools it no longer wants.
Doing so is more difficult than selling a private home or complex, and steps required under the Public Works Act can cause delays.
Late last year changes were introduced to speed up the process. Officials say significant progress is being made as a result and existing sites are being cleaned up.
Obstacles to sale include locating former owners and their successors if the land was gifted or for the right of first refusal, and complex Maori land claims.
Locals complain delays further the pain of school closures, as past community hubs become eyesores.
Invercargill mayor Tim Shadbolt said some Southland schools had become "rotting corpses" and magnets for vandalism, including arson.
When several schools merged and closed in 2004, the council offered to buy them for $1 and transform them into community facilities, Mr Shadbolt said.
"They [the Ministry of Education] said, 'No, we've got to go through the correct process'. And it's the process that's the killer ... it just rots further and further. You get vandalism, people lighting fires in them, the grass grows and there are rats and vermin, the windows get broken so they nail sheets of plywood over them, and they just look disgusting."
In South Taranaki, fed-up residents arranged patrols of Waverley High School after systematic vandalism and theft.
The school was shut in April 2007, and despite more than $85,000 being spent on security since then, the site was labelled "horrific" by Whanganui MP Chester Borrows last year.
The ministry and Nga Rauru iwi have wrangled over its sale, and a deal is reportedly not far away.
Associate Minister of Education Nikki Kaye told the Weekend Herald that selling surplus school property had sometimes taken far too long, but progress was being made.
The ministry now uses the expertise of Land Information New Zealand (Linz) to manage the disposal of property, which should speed up the process by six to 12 months.
Another change was that the ministry now sells, removes and/or demolishes closed school buildings - generally difficult for new owners to maintain or use - where possible.
Decisions about whether a property might be needed were also made faster. Invercargill's Surrey Park School, which closed in 1999, was not put into the disposal process until 2010 because it was considered it may have future educational use.
"I don't see that we'll have a situation like Surrey in the future," Ms Kaye said. "This is a delicate balance between ensuring that the interests of a range of stakeholders are taken into account, while also doing everything we can to dispose of these properties quickly."
Management of existing sites had been slightly ad hoc in the past, Ms Kaye said, but there would now be more targeted security and maintenance arrangements for closed schools.
Schools still closed include Tokoroa East School, shut in 2010 because of a falling roll. It has been boarded up and fenced off after vandals smashed windows, tagged and threw paint on buildings. In another case, the tiny Orauta School in Northland was closed in 2005, with savings to the taxpayer of $400,000 promised. But after parents and locals protested by occupying the site - which has a current rateable value of $200,000 - security and maintenance costs spiralled and have been estimated to have topped $500,000.

Sale process
• Disposal of Crown-owned property, including state schools, is governed by section 40 of the Public Works Act 1981 and current government policy. Steps that must be followed include:
• If the land was gifted, then it must be offered to the previous owner(s) at nil value but they must pay for any ministry-funded improvements (buildings).
• If the property isn't needed for another public work, it may have to be offered back at current market value for sale to the previous owner (or their beneficial successors) unless it is impractical, unreasonable, or unfair to do so.
• If the property is not sold through the offer-back process, it's assessed under the Maori Protection Mechanism process, and if a claim is successful the property is usually land banked pending settlement.
• The land can also be assessed under the Sites of Significance process, which protects surplus Crown land of particular significance to Maori.
Waiting game drags on
Kawerau District Council Mayor Malcolm Campbell is scathing of the red tape blocking use of his town's closed school.
Since Kawerau Intermediate was closed a year ago Mr Campbell and others have tried to get permission to use the grounds for a training and education facility.
"It has been quite frustrating. It's not any one particular departmental or person's fault, it's the process - the process is just such a nonsense and frustration. It is actually set up not to work," he told the Weekend Herald.
Locals in the Bay of Plenty town have feared for the property after Kawerau Central School, closed a year earlier, was almost immediately targeted by arsonists, and then torn down as a health hazard.
Mr Campbell says discussions with authorities about a community trust using the property had progressed just before Christmas, which was encouraging. He believed local iwi Ngati Tuwharetoa Kawerau had first option to buy it. The time needed to work through the process - the fault of the system, not anyone involved - was frustrating.
"We don't want to stop that process, if they want it, that's fine. But if they don't want it, we are happy to work with the community and take it on as a lease. Just what, right now I can't say, because we did have some interested parties but they got frustrated with us and threw the towel in and walked away."
The closed intermediate school has a current rateable valuation of $2,475,000, but Mr Campbell says it would really be worth much less.
The Ministry of Education has paid more than $93,000 on security, maintenance and other expenses such as rates since the closure, information released under the Official Information Act shows.
Mr Campbell says broken windows and graffiti had been quickly repaired and he felt a promise by former Education Minister Anne Tolley, that the property would be looked after had been honoured, but he was conscious that other communities had not had the same experience. "I had a look at one (closed school) in Lower Hutt the other day when I was down there, and quite frankly, I feel so sorry for the people who live next door."